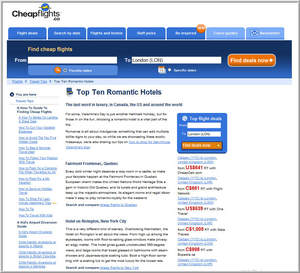 Screenshot of Cheapflights.ca's Top 10 Romantic Hotels around the world. With Valentine's Day approaching, the editorial team at Cheapflights got romantic and decided to create this list to help those looking to woo their loved one. So, whether whisking your lover to a villa in Tuscany or jetting off to a romantic retreat on an island paradise or simply a weekend getaway to Quebec City, romance is alive and Cheapflights is your guide to finding it.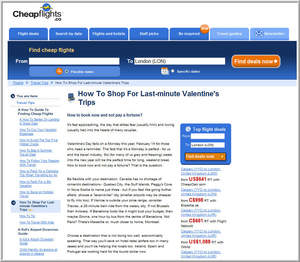 Screenshot of Cheapflights.ca's guide on How To Shop for Last Minute Valentine's Trips. Although romance is all about indulgences, Cheapflights is your resource to finding low airfares and, as a bonus, has created this how to guide with tips on how to book a last minute Valentine's getaway that fills the heart without emptying the wallet.
TORONTO--(Marketwire - January 28, 2011) - With Valentine's Day less than a month away, Cheapflights.ca, the online leader in finding and publishing travel deals, gets into the spirit of romance with its list of Top 10 Romantic Hotels around the world. Cheapflights.ca's list showcases hotels in romantic destinations in world-class cities in Canada, the US, Italy and France as well as retreats found on remote islands in the Caribbean, Asia and Australia. And, although romance is all about indulgences, Cheapflights will help you find airfares that are low and, as a bonus, has some tips for how to book a last minute Valentine's getaway that fills the heart without emptying the wallet at www.cheapflights.ca/travel-tips/how-to-shop-for-last-minute-valentines-trips/.
For many, escaping with your loved one to a secluded island resort is the perfect romantic getaway. Below are five of Cheapflights.ca's top 10 romantic hotels that are found on islands around the world:
Viceroy Anguilla, British West Indies -- Nestled in the Caribbean Islands, the Viceroy Anguilla sits on 35 acres of utter paradise. Its modern architecture screams luxury and gives way only to the surrounding exotic natural environment and two white-sand beaches. Stay in a private oceanfront villa, a beachfront suite, or a blufftop guestroom -- all of these boast your very own private pool. Search and compare cheap flights to Anguilla.
Rayavadee Resort, Krabi Island, Thailand -- This one is borderline hedonistic. Krabi Island is a two-hour drive from Phuket but feels so much more remote. Unique in its location, the resort is situated on the edge of Krabi National Marine Park, enveloped in lush flora, limestone cliffs, three beaches and the clear waters of the Andaman Sea. Stay in one of the Spa Pavilions to enjoy your own private outdoor jacuzzi, shower and gazebo for ultimate seclusion. Search and compare cheap flights to Phuket.
Southern Ocean Lodge, Kangaroo Island, Australia -- For the adventurous couple, this Kangaroo Island escape puts you up close and personal with some of Australia's fuzzy friends. Koalas, kangaroos, echidnas live in its coastal environment, and make for natural ambiance. Just off the coast of Australia, some consider it to be a peer to the Galapagos Islands. The hotel also provides a serene spa and stunning panoramic ocean views that allow whale and dolphin spotting. Luxurious wilderness, anyone? Search and compare cheap flights to Adelaide.
Fairmont Orchid, Hawaii -- Most people don't need much persuading when it comes to understanding just how blissful Hawaii is, but oceanfront cabanas, waterfall massages and sandy lagoons are just a few reasons that the Fairmont Orchid makes Waimea all the more enticing. The "Make Room for Romance" option includes orchid petals, slippers, bathrobes, Hawaiian bath crystals, floating candles, tropical massage lotion, champagne and strawberries to kick off your getaway. Search and compare cheap flights to Kailua Kona.
Capella Singapore, Sentosa Island, Singapore -- It seems like Southeast Asia always has a new tropical retreat to discover, and this one is worth exploring. The Capella Singapore on exotic Sentosa Island has 112 rooms on a property donned with artful sculptures and roaming peacocks, and its extensive design re-haul creates a lavishly modern escape in an old-world destination. Constellation rooms include alfresco terrace rubs overlooking the South China Sea, and lunar cycle-inspired spa treatments set the mood for prime indulgence. Search and compare cheap flights to Singapore.
The next five hotels to make the list are located in cities where romance simply fills the air including Tuscany, St Tropez, Québec City, Riviera Maya, and New York City (which of course is also considered an island). To find out more details on the most romantic hotels around the world, visit http://www.cheapflights.ca/travel-tips/top-ten-romantic-hotels/.
About Cheapflights Media
Cheapflights Media is an international media network providing users with different ways to find low cost travel. Since 1996, Cheapflights Media has been helping consumers research, compare and save on domestic and international travel. Our flagship brand, Cheapflights, is one of the largest flight deals publishers, delivering over 4 million deals daily. With brand-name deals on airline tickets from more than 300 partners and 600 airlines and a team of travel experts hand picking the best offerings, Cheapflights offers visitors a mix of deals they can't find anywhere else. zugu, the newest brand in the Cheapflights Media portfolio, is a powerful and simple travel search engine that makes it easy to compare and select the lowest available fares online. By organizing flight options by date, airline and time, zugu helps consumers find the best fares based on their travel terms. There are currently Cheapflights-branded sites for the U.K., U.S., Canada, Germany, Australia & New Zealand, France, Italy and Spain. zugu is available in the U.K., U.S. and Germany. For more information, visit www.cheapflights.ca.
Contact Information:
Contact Information:
Dalia Blumenthal
Publicist
Tel: +1 416-926-1967
Mobile: +1 416-788-4573
E-mail:
Web: www.cheapflights.ca