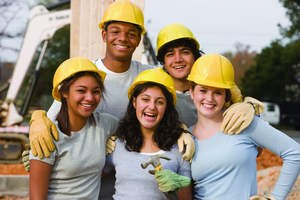 Young people all over the country are making a difference by volunteering in their communities.
MISSION, KS--(Marketwire - January 31, 2011) - (Family Features) Many youth today are involved in what 19-year old Jourdan Urbach describes as a "youthquake" of charity work among their generation. Jourdan is founder of Children Helping Children, which has raised $4.7 million for neurological disease research and care through Concerts for a Cure. He believes volunteer efforts by young people will be "this world's saving grace."
A recent survey suggests that, indeed, today's youths are attuned to helping others. The survey, conducted by Build-A-Bear Workshop, reveals that:
98 percent of kids think it is important to help others.
95 percent think it is important for kids to help charities that help people.
94 percent said it is also important to help charities that help other kids and charities that help animals.
While 82 percent of kids surveyed think it is fun to help charities, only 69 percent think it is easy for kids to get involved in doing so. It's clear that kids want to give back, but they may not always know how.
"It's as easy as looking around your neighborhood and asking yourself, 'What can I do to make things better?'" said Mimi Ausland.
Mimi created the website FreeKibble.com when she was just 11 years old. The site collects donations in order to buy food for animal shelters.
"Animal shelters need animal lovers to volunteer, find homes for pets or collect food," she said. "They can always use a helping hand, no matter how small."
Max Wallack, 14, was inspired to give while caring for his great grandmother Gertrude who suffered from Alzheimer's disease. He founded Puzzles to Remember, a non-profit organization that collects, donates and delivers puzzles to Alzheimer's patients, nursing homes and Veterans Affairs facilities.
For 11-year-old Ashlee Smith it started with a fire. Ashlee's toys were destroyed when her home burned down. She started Ashlee's Toy Closet and has now donated nearly 165,000 toys and books to kids in the United States, Canada and Haiti.
These are just a few examples of how everyday kids found extraordinary ways to give back to their communities, but opportunities for service are endless.
The book "77 Creative Ways Kids Can Serve," by 18-year-old Sondra Clark, is just one resource for kids who want to help but may not know how.
RandomKid (www.randomkid.org), founded by 15-year-old Talia Leman, provides staff and services to youth for the development, management and accomplishment of their goals to help others.
Websites like Zoom into Action (pbskids.org/zoom/activities/action/index.html) and Do Something (www.dosomething.org) also are great tools to find volunteer projects.
Jourdan, Mimi, Max, Ashlee, Sondra and Talia were all recognized by the Build-A-Bear Workshop Huggable Heroes program, which honors young leaders making a difference in their local communities and around the world and rewards them with scholarships, charitable contributions, networking opportunities and leadership training.
If you know a deserving kid in your community, you can nominate him or her to be a 2011 Huggable Hero. Nominations will be accepted through February 28. Visit www.lovehugssmiles.com/HuggableHeroes.aspx or a Build-A-Bear Workshop store for details.