Video demonstrates easy operation of the new Home Plow by Meyer.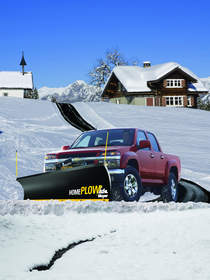 The new Home Plow by Meyer provides a fast and convenient option for clearing even the longest driveways of snow within minutes.
CLEVELAND, OH--(Marketwire - January 31, 2011) - Winter is only half over but, already, homeowners in many parts of the country have had more than their fill of snow. With record snowfall hitting the Midwest and Northeast, there is growing demand for a solution to quickly clear the mounds of snow that keep piling up on driveways. That's why it is especially timely that this year marks the introduction of the Home Plow™ by Meyer.
Forget shoveling. And don't worry about struggling to get the snow thrower started. No more frigid open-air tractor plowing and no more waiting for an outside contractor to show up. The simple-to-install and operate Home Plow easily mounts to most standard SUVs, pickup trucks or utility vehicles, so homeowners can quickly plow whenever and wherever they need to. Even the longest driveways can be cleared in a matter of minutes.
Unlike those expensive, heavy, hard-to-install commercial snow plows currently on the market, the affordable, lightweight Home Plow is easy to install, use and store. As the only fully automated snow plow on the market for well under $3,000, it allows users to control all operations from the warmth, comfort and safety of their vehicles. A remote control handles hydraulic up/down movement, while the patented Auto-Angling™ system controls the left or right direction of the blade. No need to manually angle the blade. The Auto-Angling system senses the weight of the snow and automatically angles to push snow off to the side.
The Quick Link™ receiver mount allows the plow to be connected or disconnected in less than a minute without the need for any tools. Caster wheels make it easy to roll the Home Plow away for convenient storage and re-mounting. And there's no visible hardware left behind on the vehicle. Even better, the Home Plow is lightweight so that it can be used easily and reliably by young or old, male or female.
National news stories have warned of the increased risks of a heart attack from shoveling heavy snow in sub-freezing temperatures. With the Home Plow, you won't risk becoming a statistic or chance getting stuck at home this winter.
The Home Plow by Meyer is available through homedepot.com, sears.com, northerntool.com, thehomeplow.com or through local authorized dealers.
Visit www.thehomeplow.com for more information.
Contact Information:
Contact:
Eileen Petridis
Falls Communications
(216) 696-0229
epetridis@fallscommunications.com