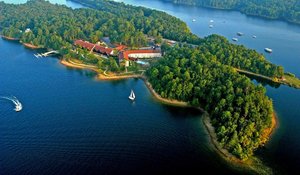 Enter The Natural State's Family Fishing Sweepstakes to win a prize package that includes a stay at the DeGray Lake Resort State Park lodge along with all the fishing gear you'll need.
LITTLE ROCK, AR--(Marketwire - January 31, 2011) - The only thing better than wetting a line in one of Arkansas's Diamond Lakes is doing it in style, fully outfitted with the hottest fishing gear on earth. Oh, and then there's the chance of winning the trip and all the gear by simply entering The Natural State's Family Fishing Sweepstakes.
Arkansas Parks and Tourism has partnered with Northland Fishing Tackle, Frabill, and MarCum Technologies to offer this amazing prize package, which also includes a spectacular fishing vacation at DeGray Lake Resort State Park on DeGray Lake, home to abundant largemouth bass, hybrid bass, smallmouth bass, spotted bass, channel catfish, blue catfish, flathead catfish, walleye and crappie... plus, more bluegills and redear sunfish than you can shake a fishing rod at.
Arkansas Parks and Tourism Communications Manager Dena Woerner says this about DeGray Lake: "Yes, the fishing is incredible, but what visitors are most surprised by is the clarity of the water. Scuba divers come from all around the world to dive in DeGray."
The lucky winner will stay at DeGray Lake Resort State Park lodge -- a first class vacation destination. If you get tired of catching fish, they offer a day spa, horseback riding, a heated pool, sandy lake beaches and golf.
On the gearing-up side, the winner will receive a MarCum Technologies VS625SD flat-screen underwater camera, perfect for spying on fish in DeGray's clear waters. MarCum is also kicking in one of its new ShowDown Troller portable sonar units. Included as well are two fit-to-order Frabill FXE Stormsuits, rated as the best raingear in the fishing industry for 2010. The Frabill offering also includes a Hiber-Net landing net and a collection of bait containers, aerators, and bait care products. From Northland Fishing Tackle comes a wide assortment of lures, including several models in their popular and technologically advanced LIVE-FORAGE® series. To that, Northland adds a healthy supply of species-specific BIONIC fishing line, which the winner can spool-on an assortment of rod and reel combos that round out the enormous prize package.
Your chance to win is a click and an entry away. This could be the luckiest cast you'll ever make...
For complete details including prize descriptions, rules and regulations visit www.fishing-arkansas.com/sweepstakes.