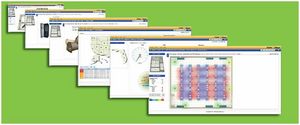 FieldView is a 100% browser based application that combines an incredibly powerful real-time data collection and database engine with a broad array of operational tools that help data center operators manage their IT assets and supporting infrastructure to maximize resource utilization and energy efficiency.
EDISON, NJ--(Marketwire - February 3, 2011) - FieldView Solutions, a provider of industry-leading data center infrastructure management (DCIM) software, today announced it will showcase its data center efficiency software at the Data Center Dynamics conference, February 15th, Atlanta, GA. FieldView's unique data center software solution is quickly being recognized as the industry's only web-based offering that monitors, manages and optimizes all aspects of the data center infrastructure.
The ability to effectively control data center costs has eluded IT managers because of the complex nature of gaining visibility into the specific metrics needed as well as the automated procedures for displaying data in an easy-to-understand format. FieldView's CEO, Fred Dirla, elaborates more, "The expansion of data centers has added a new layer of management complexity as well as additional costs to an organization's bottom line. The challenge for IT managers has become gaining visibility into branch circuit monitoring, power and cooling and other metrics to cost effectively maintain these data centers. FieldView Solutions is addressing this issue by offering a unique software solution that dives deep into all aspects of the data center to automatically gather needed data and display the results on a consolidated dashboard for informed decision making."
Additionally, FieldView will be providing advanced information on its new 4.0 enhancements which entail enhanced GUI interface and dashboards, user friendly TAB based navigation and search capabilities, and expanded asset management features.
To schedule a face-to-face meeting with FieldView Solutions at Data Center Dynamics, please email rsonatore@fieldviewsolutions.com.
Not going to Data Center Dynamics? Then schedule a live demo of FieldView and see how easy it is to optimize your data center. Or contact us by phone at (732) 395-6920 or via email at info@fieldviewsolutions.com.
About FieldView Solutions
FieldView Solutions provides managers of today's complex, mission-critical data centers with browser-based, scalable software tools that deliver a real-time view into all aspects of data center infrastructure management (DCIM). The company's flagship product, FieldView, has helped data center operations professionals in many of the largest data centers in the U.S., Europe and Asia since 2003. The FieldView Solutions team is comprised of industry professionals with demonstrated experience in both the design and operation of data centers and the development of technology platforms that service them. FieldView Solutions meets the needs of a broad range of users, from smaller, single-site operators through large-scale global corporate clients. For more information, visit http://www.fieldviewsolutions.com. Follow FieldView Solutions on Twitter at http://twitter.com/FieldViewSolu.
Contact Information:
For more information, contact:

Jackie Abramian
BridgeView Marketing for FieldView Solutions
207.439.0963
jackie@bridgeviewmarketing.com
Twitter: @fieldviewsolu