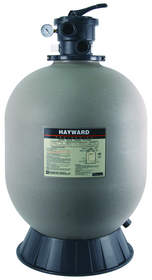 Hayward Pool Products blow molds its pool filters, such as its Pro Series, on accumulator head machines from Graham Engineering.
YORK, PA--(Marketwire - February 7, 2011) - Hayward Pool Products, with headquarters in Elizabeth, NJ, recently accepted delivery of a Graham Engineering Corporation (GEC) accumulator head machine. This machine is producing several sizes of heavy-duty pool filters.
Based upon growing business, Hayward decided to increase capacity for blow molding of their pool filters. The cornerstone of this effort was the purchase of a new Graham blow molding machine. The machine included a 6 inch bore grooved extruder with 400 HP AC, a 50-lb. series head, proprietary GEC XBM Navigator PC controls, and a 60 x 60 inch press with pre-pinch and blow pin assembly with quick change over. The press has 140 tons of clamping force and independent servo platen control. Hayward started in-house production late October of 2010 in their Clemmons, NC factory.
According to Scott Pugh, Manufacturing Manager of Hayward, "We decided to buy our first Graham machine, after a comprehensive review of the innovation and technical capabilities of potential suppliers. The fast color change capability of the Graham machine was a key selling point. This was demonstrated to us firsthand before we placed an order, and verified successfully on our machine. The incredible support we received from Graham after the sale, and throughout the installation and commissioning phase, was an added benefit that we had to experience for ourselves to truly appreciate."
GEC industrial machines are known for their fast color change capabilities. Color changes that can require as many as 8-12 hours or more on many machines can typically be accomplished in less than one hour on Graham machines, due to their unique and advanced overlapping spiral diverter design Accumulator Head. During the Hayward machinery acceptance, Graham demonstrated both white-to-black (complete color change in 6 shots) and black-to-platinum (30 shots) color changes.
David Yenor, Vice President of Global Business Development at Graham, adds, "We were very pleased to support the incredible growth and competitiveness of Hayward with the delivery of this machine. Hayward fits the profile of many of our customers for industrial machines -- growing companies, with exciting product lines, who benefit from the reliability and capabilities of our single and dual head machines. We look forward to working with them on an ongoing basis."
Mr. Pugh continued, "Just a few months after installation, we are already running this machine with unprecedented production efficiencies. In some cases, we are packing the first part after we come back up from a machine shutdown. GEC has exceeded our expectations, from order to training, acceptance, installation, and commissioning."
About Graham Engineering Corporation: Graham Engineering offers a complete line of monolayer and multilayer extrusion blow molding equipment, including: shuttle machines up to 10 L capacity; reciprocating screw and shot pot machinery for lightweight HDPE containers; multi-cavity, single and dual parison, rotary wheel blow molders for up to 30 L packaging applications; and single and dual head accumulator machinery from 5 to 50 lbs (3 to 30 liters) capacity.
About Hayward Pool Products: For over 80 years, Hayward has been manufacturing cutting edge, technologically advanced pool equipment worldwide. Their products include a complete line of technologically advanced pumps, filters, heaters, heat pumps, automatic pool cleaners, lighting, controls, and salt chlorine generators.
Contact Information:
For more information, contact:

Graham Engineering Corporation
1203 Eden Road, York, PA USA 17402-0673
+1-717-848-3755
Fax: +1-717-846-1931