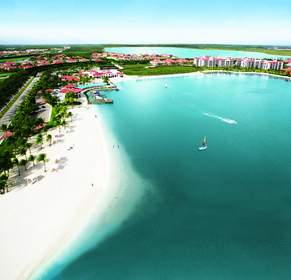 Nationally recognized Miromar Lakes Beach & Golf Club is an 1,800-acre residential-waterfront-resort community in Southwest Florida with five-star amenities that include a spa, championship golf course, more than 700 acres of freshwater lakes and three miles of white-sand beaches.
MIROMAR LAKES, FL--(Marketwire - February 9, 2011) - Miromar Lakes Beach & Golf Club was named Community of the Year by the National Association of Home Builders at its national convention in Orlando in January.
The award recognizes Miromar Lakes as the No. 1 residential community in the United States, and Miromar Lakes is the first Florida community to receive the top honor in the award's 29-year history.
Miromar Lakes Beach Clubhouse received the NAHB Gold Award for Best Clubhouse in the United States in 2010; making Miromar Lakes the only community ever to receive NAHB's Gold Award in both the Community of the Year and Best Clubhouse categories.
"Being named the top community in the country is an incredible honor because it represents the culmination of the hard work and dedication of our entire team," said Margaret J. Antonier, founder, president and CEO of Miromar Development and Miromar Lakes Beach & Golf Club. "Together, we strive to make Miromar Lakes a community like none other, and being voted No. 1 is recognition of our pursuit of excellence and luxury for our residents."
Florida's senior U.S. Sen. Bill Nelson commended Antonier on the Gold Award. "It is a testament to your hard work, dedication to quality, and commitment to excellence for the residents of your community," Sen. Nelson said. "Thank you for your continued service to your community, the State of Florida and the nation."
Miromar Lakes Beach & Golf Club is an 1,800-acre residential-waterfront-resort community just north of Naples, with more than 700 acres of aquamarine freshwater lakes for swimming, boating, water skiing and fishing. The community also has three miles of private, white-sand beaches and the only Arthur Hills signature golf course in Southwest Florida.
Antonier, who was inspired by her extensive world travels to create a unique, European-style waterfront community with five-star amenities, personally crafted the community. "Margaret is a unique individual with amazing foresight," said Lee County, Fla., Commissioner Tammy Hall.
Rosalie and Gus Rothlin travel from their native Australia to their second home at Miromar Lakes. "We have never seen anything like Miromar Lakes anywhere else in the world -- not in Germany, France or anywhere in our travels," Rosalie Rothlin said. "It is an absolute haven of luxury and beauty."
"We love the lifestyle we enjoy at Miromar Lakes," said homeowner and Pennsylvania native Michael McCain. "We can water-ski, enjoy the beautiful beaches then dock right at the clubhouse for a waterside lunch."
The 39,000-square-foot Beach Club is the centerpiece of Miromar Lakes' award-winning lifestyle, with three buildings directly along the waters' edge: The Beach Clubhouse, offering gourmet dining, library, billiard room, card room, theater, business center and concierge services; Blue Water Beach Grill, featuring an open-air setting with panoramic lake and beach views and boat docks; and the European-style spa, with facial and body treatments, full-service beauty salon and a state-of-the-art fitness center with Pilates studio and aerobics room.
The Beach Club also features a 10,000-square-foot, zero-edge infinity pool, marine services, volleyball and basketball courts and a children's playground. The Miromar Tennis Club offers seven lighted Har-Tru tennis courts.
The award-winning Golf Clubhouse combines Old World charm with the style of an Italian country villa to complement 18 holes of championship golf, including six sets of tees for golfers of every skill level and a 15-acre practice facility.
Miromar Lakes Beach & Golf Club has won 84 awards since 2003, dominating regional "Community of the Year" awards for eight consecutive years.
Residential choices at Miromar Lakes include beachfront and waterfront residences, grand estate and estate homes, luxury villas, full-floor residences and coach homes. For more information, visit www.MiromarLakes.com or call 239-425-2340.