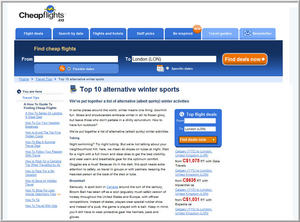 Screenshot of Cheapflights.ca's list of Top 10 Alternative Winter Sports. Winter is definitely making a lasting mark this year. If you've already had your fill of skiing, snowboarding or skating, why not try something different for a change? From night tubing or snowshoeing to quirkier activities like snowkiting or snow kayaking, this list will definitely give you ideas on other winter activities to test out.
TORONTO--(Marketwire - February 10, 2011) - Cheapflights.ca, the online leader in finding and publishing travel deals, figures if you can't beat the winter, it's best to make the most of it. And, as this is the "La Nina" winter, there is no shortage of snow, ice and wind, so there's all the more reason for Canadians to discover fun ways to enjoy this long season. If you've already been skiing, snowboarding or skating this winter, or are looking for something a little different to try, Cheapflights.ca has a list a Top 10 Alternative Winter Sports to give you something different (albeit quirky) to test out this winter whether here in Canada or travelling abroad.
Here are some of the off-the beaten track activities to make the list:
Night sledding aka Night Tubing -- Night swimming? Try night tubing. But we're not talking about your neighbourhood hill, here we mean ski slopes on tubes at night. Wait for a night with a full moon and clear skies to get the best visibility, and wear warm and breathable gear for the optimum comfort. Goggles are a must! Because it's in the dark, this sport needs extra attention to safety, so travel in groups or with partners, keeping the heaviest person at the back of the sled or tube.
Broomball -- A sport born in Canada around the turn of the century, Broomball has (seriously) taken off as a cool (arguably much safer) version of hockey throughout the United States and Europe, with official competitions. Instead of skates, players wear special rubber shoes, and instead of a puck, the game is played with a ball. Keep in mind, you'll still have to wear protective gear like helmets, pads and gloves.
Snow kayaking -- Who needs water? Row, row, row your boat gently through the snow for a fun wintry substitute. Instead of navigating your way through rapids, you'll glide through snowy hills wearing a snowsuit and goggles. The World Snow Kayaking Championships takes place in Austria each year, but the sport is gaining momentum in other places around the world where snow and kayaking coexist.
Caving/spelunking/potholing -- It's called a few different things depending on where you're coming from, but caving is unique in its terrain, and (although actually a year-round sport), a great way to get outside in the winter in lieu of heading down extreme hills. Mostly based on exploring wild and non-commercial cave systems, caving offers untouched scenery and glimpses of beautiful limestone formations, among other things.
Snowkiting -- Much like its sister sport -- kite surfing -- snowkiting joins the momentum of a kite with a courageous person on a slippery surface. Hang on tight to the string of a large kite, and hop on your snowboard or skis to cruise up and downhill. Frozen lakes make another great surface.
The other activities that made Cheapflights.ca's Top 10 Alternative Winter Sports may be well-known by many Canadians but still deliver an adrenaline rush. They include snowmobiling, ice climbing, snowshoeing, winter mountaineering and, for those avid skiers heading to Europe, downhill runs on indoor slopes. For full details on the Top 10 Alternative Winter Sports, visit http://www.cheapflights.ca/travel-tips/top-10-alternative-winter-sports/.
About Cheapflights Media
Cheapflights Media is an international media network providing users with different ways to find low cost travel. Since 1996, Cheapflights Media has been helping consumers research, compare and save on domestic and international travel. Our flagship brand, Cheapflights, is one of the largest flight deals publishers, delivering over 4 million deals daily. With brand-name deals on airline tickets from more than 300 partners and 600 airlines and a team of travel experts hand picking the best offerings, Cheapflights offers visitors a mix of deals they can't find anywhere else. zugu, the newest brand in the Cheapflights Media portfolio, is a powerful and simple travel search engine that makes it easy to compare and select the lowest available fares online. By organizing flight options by date, airline and time, zugu helps consumers find the best fares based on their travel terms. There are currently Cheapflights-branded sites for the U.K., U.S., Canada, Germany, Australia & New Zealand, France, Italy and Spain. zugu is available in the U.K., U.S. and Germany. For more information, visit www.cheapflights.ca.
Contact Information:
Contact Information:
Dalia Blumenthal
Publicist
Tel: +1 416-926-1967
Mobile: +1 416-788-4573
E-mail:
Web: www.cheapflights.ca