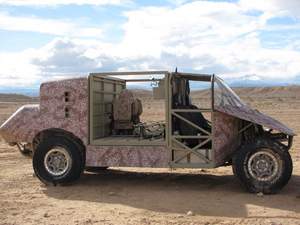 Vyper FAV with Medical POD. Allows for fast extraction of injured under hostile conditions.
CARSON CITY, NV--(Marketwire - February 10, 2011) - It can happen anywhere. A violent earthquake in California; tornadoes in the Midwest; mass protests such as those in Egypt; drug or people trafficking along the US-Mexico borders; military conflicts where rapid deployment of weapon systems or medical assistance becomes a life-and-death matter. These are a few of the scenarios that Vyper Adamas vehicles are designed for.
Moving fast under extremes
Quick response capability under extreme conditions is the business of Vyper Adamas. They produce special-purpose modular Fast Attack Vehicles with customizable POD configurations that share a common platform. The PODS allow the vehicle to quickly change missions from a weapons platform to a medical suite, troop/cargo transport, fire suppression, even oil spill clean up. Its unique design with off-road capabilities of over 100 mph in hostile environments makes it a perfect vehicle for Military and Border Patrol security missions.
How do they do this?
Using off-road racing experience allows them to design vehicles that can move quickly and reliably though the roughest environments. Engine options range from the Chevy Duramax V-8 diesel with over 1000 ft-lbs of torque or the 650 hp Dodge Viper V-10 specially modified to their specifications. NASCAR cooling, Baja air filtration, and other top vehicle engineering systems are utilized and developed especially for durable, reliable, quick response transport of people and equipment in hostile, combat and other emergency environments.
The operative function of Vyper Adamas is: FAST, light weight, durable vehicles for defense, security, border patrol and emergency response.
We live in an uncertain world. More and more, we need to be ready to act upon those uncertainties when they occur.
For more specifics and videos of the vehicle in action, visit the Vyper Adamas website: http://www.vyperadamas.com/
Contact Information:
VYPER ADAMAS, INC.
1805 N. Carson Street
Carson City, NV 89791

Contact:
Denise Collins
Vyper Project Manager
(877) 774-5554