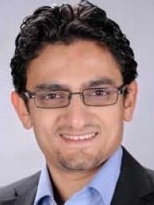 Wael Ghonim, Egyption pro-democracy activist and Google exec
BETHESDA, MD--(Marketwire - February 11, 2011) - Group texting service GroupFlier (www.groupflier.com) today announced the release of the industry's first curated text messaging groups.
The first group is dedicated to providing timely information and tweets from Wael Ghonim, the 30-year old Egyptian activist, Google executive and face of the Egyptian pro-democracy youth movement.
"Our users drove us here," said Morris Panner, CEO of GroupFlier. "They use our service to group text and talk about important issues. They told us they wished they had a good way to get clear information about important news events as they unfold.
"They all love Twitter and Facebook, but to receive hundreds of SMS texts on the phone can be overwhelming. We stepped in and are providing that curated content. We learned a lot about what type of content people want to receive via SMS."
The text messaging group dubbed "Egypt4Peace" will follow the tweets made by Egyptian activist Wael Ghonim, the Google executive who survived 11 days in police custody blindfolded and without cause.
Wael Ghonim is one of the administrators behind Egypt's most popular Facebook page, "We are Khaled Said," that has served to mobilize the youth movement and helped organize thousands of protestors in Cairo's Tahrir Square.
Although anyone can set up Twitter to follow SMS tweets, the GroupFlier option will not automate the sending of tweets indiscriminately. This curated service will screen for the most relevant tweets and news headlines that convey compelling information about the passion, plans, and convictions of Wael Ghonim and the youth movement.
The Egypt4Peace SMS group will also select tweets made by embedded reporters Dan Nolan of Al Jazeera English, New York Times' Roger Cohen, and Sharif Kouddous, senior news producer for Democracy Now!
A free service, people can join Egypt4Peace in two different ways:
Text Egypt4Peace to (617) 394-1386
GroupFlier CEO Morris Panner has been a long proponent of human rights, having been the founder of the Harvard Human Rights Journal. He is on the board of the Washington Office on Latin America, a leading human rights group for Latin America.
On Tuesday February 9th, Panner wrote an opinion piece, "Accelerating Change in Egypt," which was published by the Washington Times: http://www.washingtontimes.com/news/2011/feb/8/accelerating-change-in-egypt/
Techcrunch featured this innovative service on Feb 10:
http://techcrunch.com/2011/02/10/groupflier-egypt/
About Wael Ghonim
Google's director of marketing for the Middle East and Africa, Wael Ghonim received a bachelor's degree in Computer Engineering from Cairo University in 2004, and received a master's degree in Business Administration cum laude from American University in Cairo in 2007. Wael is married to an American and his family home is in Dubai.
About GroupFlier
GroupFlier's mission is to empower clubs and associations of all types, through free group texting and content curation for SMS. The service is compatible with all cellphone devices and platforms, whether it be a BlackBerry, Android, iPhone or old Nokia, as well as supporting any service plans by AT&T, Verizon or a phone card. GroupFlier also offers an iPhone app for group creation. Soon to follow are more advanced iPhone, Android and RIM clients that will enable a richer information experience.
Contact Information:
Press Contact:
Victor Cruz
Principal, MediaPR.net
(401) 349-3369
Cell: (508) 320-1204
vcruz@mediapr.net