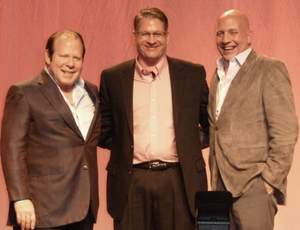 Brian K. Bagan (center), Kodak Director of Business Development, congratulates MMRGlobal (MMRF) Chairman & CEO Robert H. Lorsch (left) and Executive Vice President Richard M. Lagani (right) on winning two awards at Kodak Americas Document Imaging Channel All Star Awards during high level sales meetings in Orlando, FL on February 13, 2011.
ORLANDO, FL and LOS ANGELES, CA--(Marketwire - February 14, 2011) - MMRGlobal, Inc. (OTCBB: MMRF) today announced that it was named Kodak's Overall Best Independent Software Vendor for 2010 at the Kodak Americas Region Document Imaging Channel Awards dinner last night in Orlando, Florida. The Company also announced it had reached an understanding with Kodak on a private label equipment purchase agreement which represents more than 10 million dollars in MMRPro system sales over the next 15 months. The agreement, which MMR plans on signing prior to the HIMSS Conference next week, will call for deliveries to begin as soon as April 2011.
Prior to the surprise announcement of being named Best Independent Software Vendor, MMRGlobal also received the award as Kodak's Overall Best Independent Software Vendor for a Healthcare Application for its MMRPro solution. Brian K. Bagan, Director, Business Development, Document Imaging, United States and Canada, Kodak's Business Solutions and Services Group, presented the two awards to MMRGlobal Chairman and CEO Robert H. Lorsch. Also on stage was Richard M. Lagani, MMRGlobal Executive Vice President, who recently joined the Company after having spent the last 14 years with Chartis Insurance (formerly AIG).
Mr. Lorsch said, "Yesterday was a very special day highlighted by learning and network opportunities that will bring significant value to MMRGlobal. We are proud that Kodak invited us to join this high level sales meeting of more than 800 participants from the United States, Canada and Latin America. I appreciate Kodak making MMR feel at home in Orlando during Grammy Night in Los Angeles. We spent the day meeting with many larger resellers and distributors with regard to future sales of MMRPro. We value our relationship with Kodak and look forward to it continuing for many years to come."
About MMRGlobal, Inc.
MMRGlobal, Inc., through its wholly-owned operating subsidiary, MyMedicalRecords, Inc. (MMR), provides secure and easy-to-use online Personal Health Records (PHRs) and electronic safe deposit box storage solutions, serving consumers, healthcare professionals, employers, insurance companies, financial institutions, and professional organizations and affinity groups. MyMedicalRecords enables individuals and families to access their medical records and other important documents, such as birth certificates, passports, insurance policies and wills, anytime from anywhere using the Internet. The MyMedicalRecords Personal Health Record is built on proprietary, patented technologies to allow documents, images and voicemail messages to be transmitted and stored in the system using a variety of methods, including fax, phone, or file upload without relying on any specific electronic medical record platform to populate a user's account. MMRGlobal's professional offering, MMRPro, is designed to give physicians' offices an easy and cost-effective solution to digitizing paper-based medical records and sharing them with patients in real time through an integrated patient portal. MMR is an Independent Software Vendor Partner with Kodak to deliver an integrated turnkey EMR solution for healthcare professionals. MMR is also an integrated service provider on Google Health. To learn more about MMRGlobal, Inc. and its products, visit www.mmrglobal.com.
Forward-Looking Statements
Any statements contained in this press release that refer to future events or other non-historical matters are forward-looking statements, and some can be identified by the use of words (and their derivations) such as "need," "possibility," "offer," "development," "if," "negotiate," "when," "begun," "believe," "achieve," "will," "estimate," "expect," "maintain," "plan," "help" and "continue," or the negative of such terms and other comparable terminology. MMRGlobal, Inc. disclaims any intent or obligation to revise or update any forward-looking statements. These forward-looking statements are based on MMRGlobal, Inc.'s reasonable expectations as of the date of this press release and are subject to risks and uncertainties that could cause actual results to differ materially from current expectations. The information discussed in this release is subject to various risks and uncertainties related but not limited to changes in MMRGlobal, Inc.'s business prospects, its results of operations or financial condition, its relationship with Kodak, market acceptance of MMRPro, government regulation and changes in healthcare initiatives, and such other risks and uncertainties as detailed from time to time in MMRGlobal, Inc.'s public filings with the U.S. Securities and Exchange Commission.
Contact Information:
CONTACT:

Michael Selsman
Public Communications Co.
(310) 553-5732
ms@publiccommunications.biz