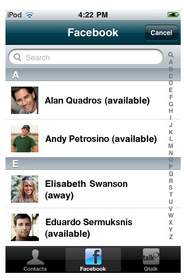 Online Buddies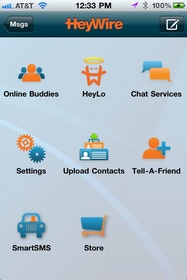 HeyWire Features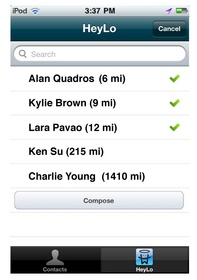 HeyLo- Locate and Text Friends
BOSTON, MA--(Marketwire - February 14, 2011) - Did you ever imagine that SMS could become smarter and more social? We did, which is why HeyWire™ today announced it's expanding the social messaging experience by spicing up SMS and taking texting to new heights. A world's first, HeyLo™, created by HeyWire™, combines SMS and location, allowing users to find and text friends closest to them. The service also includes SmartSMS™ to eliminate texting distractions at just the right times. Could texting get any cooler?
Check out how HeyWire is integrating texting squarely into social messaging for your iPhone, iPod touch and iPad, bringing some much-needed innovation to the texting world:
HeyLo: With HeyLo, your social life just got a lot more, well... social! This feature allows you to see where your HeyWire friends are located in relation to you. So, tap the HeyLo icon, find friends on HeyWire and send texts instantly to meet up for lunch, drinks or a movie with nearby friends. You can also text up to 10 of your closest friends with the same message.

SmartSMS: Have trouble putting down your iPhone or iPad, even while driving? We're not looking for a confession, but SmartSMS is the feature for you! SmartSMS eliminates texting distractions by holding incoming text messages for future delivery, disabling sound notifications of incoming texts and sending customized auto-responses to your friends. Whether you're driving, flying, sleeping, or just want time to chill under a palm tree, turn this setting on to let friends know that you're off the grid. Free for a limited time only!

Store: Personalize your Messaging Hub! With the new HeyWire store, you can purchase message tone and HeyWire theme packs to further customize your HeyWire experience. We also give you a few for free -- just check your settings!
"HeyWire loves our users. We love them so much that we want them to be more social, have the ability to locate each other easily and stay safe," said Meredith Flynn-Ripley, CEO of HeyWire. "This latest iOS release makes texting more fun and practical -- plus as part of HeyWire's social messaging hub, it's mashed up with Facebook Chat and Twitter to help users communicate better. No more excuses for ducking messages... unless you're in SmartSMS mode, of course!"
Not sure what HeyWire is? HeyWire is a social messaging hub that allows users to text for free worldwide from a real phone number. By merging texting and top chat services like Facebook Chat, Google Talk, IM and HeyTweets (our worldwide Text-to-Twitter service), HeyWire gives users a free, simple and seamless way to connect with friends and family around the world.
Already a worldwide hit on the Apple iOS and Android platforms, HeyWire is ranked as a top free social networking app in all App Stores around the world. Grab the HeyWire app for iPhone, iPad, or iPod touch, and if you're partial to little green robots instead of fruit, no worries, a version of HeyWire is available for Android. Users can get access to the web version in beta and start connecting with friends and family around the world for free! HeyWire operates a Mobile Operator Grade Service to keep the messages flying around the world and follows CTIA, CWTA, GSMA and MMA Guidelines. The HeyWire Network has rapidly grown since launch four months ago to include millions of smartphones and feature phones with its open messaging approach.
About HeyWire
HeyWire™, brought to you by MediaFriends, Inc., is a real-time social messaging hub that empowers consumers worldwide to connect with each other in better ways using text messaging (SMS), Facebook, Twitter and IM on virtually any Internet connected device. For more information, please visit www.heywire.com.
Note to Editors
HeyWire works over Wifi or mobile operator data service. Texting is absolutely free worldwide for HeyWire-to-HeyWire Messaging. Friends without HeyWire responding to a HeyWire number will be charged by their mobile operator standard rates for texting a U.S. phone number. Nothing extra.
Contact Information:
Media Contacts
LaunchSquad for HeyWire
Mike Farber or Chantal LeBoulch
heywire [at] launchsquad [dot] com
+1.617.945.1915

HeyWire
Glenn Kiladis
glenn [at] heywire [dot] com
+1.617.319.9789