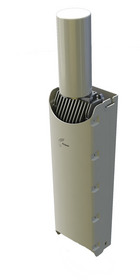 Airspan's new AirSynergy, first-ever pico with integrated LTE, WiMAX and high capacity wireless backhaul
BARCELONA, SPAIN--(Marketwire - February 14, 2011) - Airspan Networks, Inc., a leading provider of broadband wireless access networks, announced today at Mobile World Congress 2011 the launch of AirSynergy, the world's first multi-standard pico eNodeB with high capacity integrated wireless backhaul, designed to allow operators to economically deploy urban heterogeneous wireless broadband networks, and create sustainable 4G networks in rural areas. The product is the latest in Airspan's range of compact, software defined radio base stations providing the flexibility to support multiple Radio Access Network (RAN) standards and wireless backhaul simultaneously.
Capacity is an ever-increasing challenge for network operators. As consumers use more bandwidth-demanding applications, operators need to find solutions to deliver the necessary connectivity. Traditional macro wireless networks typically cover wider range areas, but often leave service gaps in between cells. Pico cells are smaller cells that deliver coverage and capacity into a targeted geographical region and user base. A heterogeneous wireless broadband network is one in which a macro wireless network is combined with intelligent pico cells to significantly improve coverage and capacity to an overall network, thereby delivering a significantly improved user experience.
AirSynergy will allow 4G LTE and 4G WiMAX carriers to significantly increase the data handling capacity of their network by deploying wireless pico nodes close to the user base on existing street poles such as lamp posts and utility poles. With a unique highly efficient, integrated wireless backhaul technology, called iBridge, data demand can be offloaded from macro base stations.
The new product holds the promise of unprecedented benefits to operators and encompasses Airspan's many years of wireless expertise in software defined radio (SDR) technology to support multiple 4G wireless interfaces spanning licensed frequency bands between 450 MHz and 6 GHz. Supported RAN standards include:
WiMAX 802.16d and 802.16e
LTE release 8.0 and 9.0, both TDD and FDD
High capacity point-to-multipoint relay backhaul
In addition to providing additional access capacity to a mobile carrier network, AirSynergy also supports a low density deployment using its backhaul relay mode which enables carriers to create sustainable 4G networks in rural communities, delivering service to previously underserved customers. Power utility companies can also benefit from this flexible architecture and highly efficient frequency reuse by deploying on existing distribution network utility assets, such as power poles. This delivers coverage and capacity to support Smart Grid applications such as direct-to-the-meter 4G AMI, Demand Response, Distribution Automation, EV charging stations and micro-generation control and metering connectivity.
"AirSynergy is a revolutionary new product that will enable carriers to deploy 4G into locations that have never been accessible or sustainable before," said Airspan CEO Eric Stonestrom. "Whether it's a deployment to rural America, to help President Obama deliver on his goal to bring 4G services to 98% of Americans by 2015, or a solution for European carriers who need to provide more mobile broadband capacity in the metropolitan centers of Europe, AirSynergy is a compelling proposition."
Paul Trubridge, VP Product Management at Airspan, added, "By integrating our latest generation of Software Defined Radios, antennas & RF technologies in this product we have for the first time combined our 4G access and non-line of sight wireless backhaul interfaces into the same compact and discrete form factor. This product is the first of its kind and will be a key enabler for large scale deployments of heterogeneous cellular networks and sustainable rural broadband."
Airspan's new suite of LTE RAN solutions including AirSynergy are on display at Mobile World Congress in Barcelona through February 17 in Hall 1, Booth B56.
About Airspan Networks, Inc.
Airspan (OTC Markets: AIRO) is a leading 4G wireless solution provider. With over 500 customers in over 100 countries and as a top vendor for carrier-class broadband wireless solutions, Airspan is recognized as a leader and pioneer in 4G and broadband wireless technologies. Providing an expansive product portfolio, Airspan offers customers the widest selection of 4G products in the industry with an unsurpassed level of technology to benefit their business case. Airspan has solutions spanning the 700 MHz to 6 GHz frequency bands. www.airspan.com.
This press release contains forward-looking statements. All statements, other than statements of historical facts, including statements regarding our strategy, future operations, financial position, future revenues, projected costs, prospects, plans and objectives of management, may be deemed to be forward-looking statements. The words "anticipates," "believes," "estimates," "expects," "intends," "may," "plans," "projects," "will," "would" and similar expressions or negative variations thereof are intended to identify forward-looking statements, although not all forward-looking statements contain these identifying words. We may not actually achieve the plans, intentions or expectations disclosed in our forward-looking statements and you should not place undue reliance on our forward-looking statements. There are a number of important factors that could cause actual results or events to differ materially from the plans, intentions and expectations disclosed in the forward-looking statements we make. Investors and others are therefore cautioned that a variety of factors, including certain risks, may affect our business and cause actual results to differ materially from those set forth in the forward-looking statements. We do not assume any obligation to update any forward-looking statements.
Contact Information:
For Media Inquiries, contact:
Dori Erann
Senior Director Marketing Communications
Airspan Networks, Inc.
Tel. +1 561.893.8687
Email: derann@airspan.com