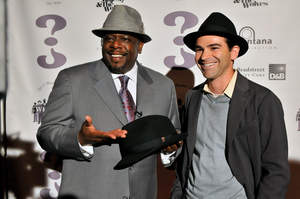 Cedric the Entertainer shows off his WHO CED? hat line with Dun & Bradstreet Credibility Corp. CEO Jeff Stibel in Las Vegas, NV.
LOS ANGELES, CA--(Marketwire - February 16, 2011) - Generations of iconic Americans, from Humphrey Bogart to the American businessman, have donned the fedora hat. From the outset, the fedora brought character, style and a sense of credibility to those who wore it.
In the spirit of character and credibility, Dun & Bradstreet Credibility Corp., a privately-held company based in Los Angeles, today announced its partnership with Cedric The Entertainer's WHO CED? hat line to recognize employees who best represent character and credibility in serving small businesses.
Dun & Bradstreet Credibility Corp. announced the partnership with Cedric the Entertainer during a preview event for his WHO CED? hat line during the 2011 MAGIC fashion trade show in Las Vegas. The Company placed the first corporate order for a line of custom Dun & Bradstreet Credibility Corp. Fedora hats.
"Over many decades, the fedora has built a reputation as the American businessman's hat," stated Judy Hackett, Chief Marketing Officer, Dun & Bradstreet Credibility Corp. "We teamed up with WHO CED? not just because they're building a brand with style, but because the hat itself exudes a reputation of permanence, something that's crucial in business management."
A hat steeped in legacy seemed only fitting for Dun & Bradstreet Credibility Corp., a company whose roots date back 170 years. The tenet of the company has not changed since Lewis Tappan created the first credit rating agency in 1841 focused on a business' "... means, capital, and character ...."
"We're very excited to partner my WHO CED? hat line with Dun & Bradstreet Credibility Corp.," said Cedric the Entertainer. "We are definitely looking forward to a creative partnership and re-igniting respect for the fedora hat!"
Dun & Bradstreet Credibility Corp. intends to use the hats as part of employee recognition efforts and other internal projects.
About Dun & Bradstreet Credibility Corp.
Dun & Bradstreet Credibility Corp. is the leading provider of business credit management and credibility building solutions. The company helps businesses establish their credit with a D&B D-U-N-S® Number and provides the only real business credit solution available to companies looking to build, monitor and impact their business credit and credibility. The company's headquarters are in Los Angeles, CA with offices throughout the United States. For more information on the company, please visit www.DandB.com.
About Cedric The Entertainer and WHO CED?
Cedric is one of the most diverse entertainment professionals in the business today. Since the early 90's he has dominated the entertainment landscape with concurrent successes in Network and Cable Television, Major Motion Pictures, Animated Films, Stand Up Comedy, and various Live and Video Game appearances. His passion for style, and his love of the transformative power of the almighty hat, keeps WHO CED? in the forefront of the business. The preliminary hat line consists of a wide variety of Fedoras, News Boys, and High Caps and Beanies. WHO CED? clients will be sporting timeless fashion when the hat line retails in stores in the Summer of 2011.
Contact Information:
Contact

Aaron Kellogg
Greenough Communications
(617) 275-6526