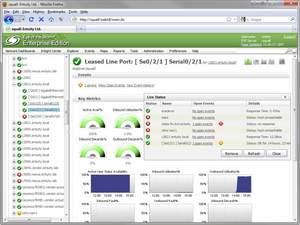 EYE includes the complete spectrum of functionality for enterprise network management
Get EYE for complete, browser-based, enterprise scalable, network management.
MARLBOROUGH, MA and LONDON, UK--(Marketwire - February 22, 2011) -
News Facts
Entuity®, the leader in next-generation, value-focused, enterprise network management solutions and the global developer of its award-winning Eye of the Storm® (EYE) software portfolio today announced that Corporate Computer Solutions, a value added reseller for the New York area, has joined the Entuity Channel Partner Network (ECPnet™).
Corporate Computer Solutions headquartered in Harrison, New York will now offer Eye of the Storm's business-centric network management capabilities to its customers in the New York area. From municipalities and hospitals to businesses and universities Corporate Computer Solutions will help these varied organizations maximize their network infrastructure ensuring reliable performance for their end users.
Eye of the Storm enables IT professionals to reduce costs, improve service availability, manage risk, ensure compliance, or achieve Green IT sustainability. IT managers can better leverage deep network analytics that clearly convey how the network is delivering critical applications, services, and connectivity to its end-users.
Supporting Quotes
Quote, attributed to Larry Grippo, vice president, Corporate Computer Solutions
"The remarkable value that Eye of the Storm offers our customers will help them save on power costs with Green IT, eliminate wasted expenses for unnecessary network purchases and most importantly keep their networks performing at optimum levels ensuring that their end-users are productive. Corporate Computer Solutions' goal is to facilitate our customers with this proactive network management solution so they in turn can operate their business successfully."
Quote, attributed to Peter Licursi, vice president, Global Sales, Entuity
"Entuity is pleased to add Corporate Computer Solutions to our ECPnet. As our first reseller who is a New York State and New York City Certified Woman Owned Business Enterprise (WBE), they are in a great position to shape IT organizations to meet the ever-changing technology needs of their varied customers. We look forward to a mutually successful relationship."
Multimedia Elements
About Corporate Computer Solutions
Corporate Computer Solutions, Inc. was established in 1987 and for over 20 years has been providing top-quality computer-based business solutions to Fortune 1000 corporations, state and local government agencies, educational institutions and midmarket companies in the Greater New York area. As a systems integrator, service provider and value added reseller for premium IT products, Corporate Computer Solutions partners with their customers to help them select and maximize their IT resources and services.
Corporate Computer Solutions is a New York State and New York City Certified Woman Owned Business Enterprise (WBE). This designation allows them to provide services -- and specialized pricing -- to NYS Local Government Agencies, Federal Government and Schools and Universities and to Not-for-Profit institutions and other Government and Public Sector agencies. It is through strong, long-lasting business relationships with each customer that Corporate Computer Solutions continually provides valuable IT expertise, solutions, and implementation strategies that enable their clients to prosper. For more information on Corporate Computer Solutions, please visit: www.corporatecomputersol.com.
About Entuity
Entuity is the leader in next-generation, value-focused, enterprise network management and service delivery solutions at price points to match a range of business models. The Company's line of Eye of the Storm (EYE) software automatically discovers, captures, correlates, and alerts on unrivalled network data and analytics. EYE's unique InSight Center™ Perspectives explicitly relate business value to help reduce operational and capital costs, reduce network downtime, achieve sustainability goals, commit to, deliver and prove service level commitments, ensure network configuration compliance, and optimize performance of private cloud environments.
Winner of numerous industry and business awards including the Network Products Guide 2010 Product Innovation Award for Network Management, EYE has been praised for its fast deployment, ease of use, and low cost of ownership. Entuity customers include enterprises, SIs, and MSPs such as ABB, Aptina, Astra Zeneca, BMC Software, CLS Services, DIRECTV, IBM Global Services, Perot Systems, Phones 4U, The Royal Bank of Scotland, SASSA, Sony, Visteon, and WorldPay. For more information on Entuity, please visit www.entuity.com or call +1.508.357.6346 (North America) or +44 (0) 20 7444 4800 (Europe).
Entuity and Eye of the Storm are registered trademarks and InSight Center is a trademark of Entuity, Ltd. All other marks and names mentioned herein may be trademarks or registered trademarks of their respective companies.
Contact Information:
Contact Information:

Kenneth Klapproth
Entuity
+1.508.357.6347