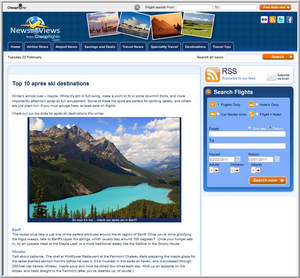 Blog post on Cheapflights.com's Top 10 Apres Ski Destinations. Cheapflights.com knows that activities off the piste are almost as important as what happens on them. So we've put together this list of Top Apres Ski Destinations which offer nightlife and entertainment for skiers and snowboarders looking for some after-ski fun. Some of these hot spots are perfect for spotting celebs, and others are just plain fun.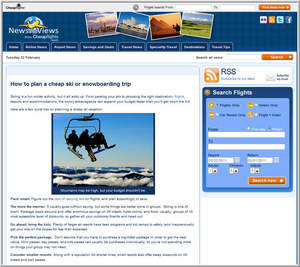 Blog post on Cheapflights.com's tips on how to plan a cheap ski or snowboarding trip. Skiing is a fun winter activity, but it all adds up. From packing your skis to choosing the right destination, flights, lessons and accommodations, the snowy extravaganza can expand your budget faster than you'll get down the hill. Use these tips so you can enjoy the slopes and still have some cash for apres ski fun too.
BOSTON, MA--(Marketwire - February 23, 2011) - Cheapflights.com, the online leader in finding and publishing travel deals, knows that the excitement of a ski holiday doesn't end once you've take the last chair lift ride of the day. For those looking for as much or more fun off the slopes, Cheapflights.com has put together its list of Top 10 Après Ski Destinations. With their exceptional restaurants, nightlife and entertainment, these hotspots are a draw for fun seekers of all kinds and many celebrities, including Oprah, Tom Cruise and Harrison Ford, are often among those enjoying themselves.
Here are five of our top Après Ski Destinations where you may be able to rub (or bend) elbows with a celebrity or two:
Vail, Colorado - A lot of famous people -- Cameron Diaz, Kelsey Grammar and Clint Eastwood, among others -- like Vail. Maybe it's the Red Lion -- a nightly live music venue that's known as the place to be. Nightlife gurus suggest getting there early to snag a good seat. Garfinkle's in Lionshead has a huge outside deck that overlooks the terrain, and also has live music. Search and compare cheap flights to Vail.
Chamonix, France - This alpine resort attracts a lot of love. Kylie Minogue plans parties here frequently, and Elin Nordegren (Tiger's first lady) used the haven as an escape while the public calamity went down. Mont Blanc just seems to attract female fame, including Le Privilege, a nonstop party locale. Search and compare cheap flights to Chamonix.
Telluride, Colorado - A little less glam, a lot more neighborhood vibe, Telluride has serious slopes and equally distinctive restaurants and watering holes. Here, Victorian buildings have been converted into bars, shops and bistros. Oprah Winfrey and Tom Cruise have been seen gallivanting around the gorgeous San Juan mountain area, but another hot spot for ordinary folk is the New Sheridan Bar, with (extra happy) happy hour menus. Search and compare cheap flights to Telluride.
Jackson Hole, Wyoming - Uma Thurman and Harrison Ford apparently frequent Jackson Hole, so if it's good enough for them... Soak up the beauty of the fine Wyoming landscape by day, and choose from western saloons or elegance at night. For a fancy dining experience clean up for the Four Seasons, and for something more casual, drink at the Mangy Moose or the Million Dollar Cowboy Bar. Search and compare cheap flights to Jackson Hole.
Cortina, Italy - Called "salotto dei famosi," meaning "the celebrities' living room," Cortina, Italy has been known to draw epic A-listers like Ingrid Bergman, Brigitte Bardot and Clark Gable. Visit to revel in authentic Hollywood historic figures' footsteps (or ski tracks) and rub elbows with the well-to-do modern folk. Try Via del Mercato for a selection of over 700 wines, or Blues Bar Lacedel at the base of the Socrapes for something lower-key. Search and compare cheap flights to Cortina.
Other après ski destinations to make the list include Aspen, Colorado; Banff, Alberta; St. Moritz, Switzerland; Whistler, BC and St. Anton, Austria. To read the complete list of Top 10 Après Ski Destinations, visit http://news.cheapflights.com/2011/02/top-10-apres-ski-destinations/.
Worried that a trip to one of these renowned ski towns is beyond your budget? Check out Cheapflights.com's advice on how to save on a ski vacation. Stretch your travel dollars with tips about how to pack smart to take advantage of a package holiday so you can splurge on an après ski evening with the stars. The full set of tips is available at http://news.cheapflights.com/2011/02/how-to-plan-a-cheap-ski-or-snowboarding-trip/.
About Cheapflights Media
Cheapflights Media is an international media network providing users with different ways to find low cost travel. Since 1996, Cheapflights Media has been helping consumers research, compare and save on domestic and international travel. Our flagship brand, Cheapflights, is one of the largest flight deals publishers, delivering over 4 million deals daily. With brand-name deals on airline tickets from more than 300 partners and 600 airlines and a team of travel experts hand picking the best offerings, Cheapflights offers visitors a mix of deals they can't find anywhere else. zugu, the newest brand in the Cheapflights Media portfolio, is a powerful and simple travel search engine that makes it easy to compare and select the lowest available fares online. By organizing flight options by date, airline and time, zugu helps consumers find the best fares based on their travel terms. There are currently Cheapflights-branded sites for the U.K., U.S., Canada, Germany, Australia & New Zealand, France, Italy and Spain. zugu is available in the U.K., U.S. and Germany. For more information, visit www.cheapflights.com.
Contact Information:
Contact Information:
Dalia Blumenthal
Publicist
Tel: +1 416-926-1967
Mobile: +1 416-788-4573
E-mail:
Website: www.cheapflights.com