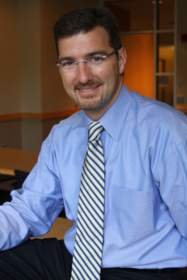 Matt Fogelgren, Director of
North American Channel Sales, Sophos
BOSTON, MA--(Marketwire - February 23, 2011) - Global IT security and data protection firm Sophos today announced that Director of North American Channel Sales Matt Fogelgren has been named a Channel Chief by Everything Channel's CRN. Channel Chiefs are leaders in creating effective channel programs for solution providers. They consistently defend, promote, and execute effective channel partner programs and strategies.
Under Fogelgren's direction, Sophos continues to invest substantially in the Sophos Partner Program. Over the last year, Sophos:
Rolled out the Sophos Managed Service Provider (MSP) Program to SMB Security Partners to help further maximize revenue growth opportunities
Developed strategic partnerships with large, security-focused VARs, which increased the company's market share in the mid-market and enterprise market
Earned Winner status for numerous Everything Channel's CRN awards, including:
This year's Channel Chiefs were chosen based by Everything Channel editorial on criteria including policy and program innovations made during the past year, the amount of revenue their company generates through partners, their willingness to speak out publicly on behalf of the channel, and the number of years they have dedicated to channel activities.
"I am thrilled to be named a Channel Chief for 2011 as some of the most incredibly talented and respected channel leaders in the industry are on the list," said Fogelgren. "Sophos continues to work very closely and strategically with our partners so they can maximize sales opportunities and profits selling our solutions and services and minimize time spent on the backend of the sales process."
"Being named a Channel Chief is one of the most prestigious honors in the IT industry. This year's Channel Chiefs offer tremendous insight into the who's who of the Channel," said Kelley Damore, VP, Editorial Director, Everything Channel. "Top channel executives consistently ensure that the Channel's voice is heard when strategic decisions are being made and continually nurture mutually profitable relationships. We applaud this year's Channel Chiefs for their successful partner programs and strategies."
For additional information on the CRN Channel Chief list, visit www.crn.com. The Channel Chief list was published in the February 21, 2011 issue.
About Sophos
More than 100 million users in 150 countries rely on Sophos as the best protection against complex threats and data loss. Sophos is committed to providing security and data protection solutions that are simple to manage, deploy, and use and that deliver the industry's lowest total cost of ownership. Sophos offers award-winning encryption, endpoint security, web, email, and network access control solutions backed by SophosLabs -- a global network of threat intelligence centers. With more than two decades of experience, Sophos is regarded as a leader in security and data protection by top analyst firms and has received many industry awards. Sophos is headquartered in Boston, US and Oxford, UK. More information is available at www.sophos.com.
About Everything Channel
Everything Channel is the premier provider of IT channel-focused events, media, research, consulting, and sales and marketing services. With over 30 years of experience and engagement, Everything Channel has the unmatched channel expertise to execute integrated solutions for technology executives managing partner recruitment, enablement and go-to-market strategy in order to accelerate technology sales. Everything Channel is a UBM company. To learn more about Everything Channel, visit us at http://www.everythingchannel.com. Follow us on Twitter at http://twitter.com/everythingchnl.
About United Business Media Limited
UBM (UBM.L) focuses on two principal activities: worldwide information distribution, targeting and monitoring; and, the development and monetization of B2B communities and markets. UBM's businesses inform markets and serve professional commercial communities -- from doctors to game developers, from journalists to jewelry traders, from farmers to pharmacists -- with integrated events, online, print and business information products. Our 6,500 staff in more than 30 countries are organized into specialist teams that serve these communities, bringing buyers and sellers together, helping them to do business and their markets to work effectively and efficiently. For more information, go to www.ubm.com.
Contact Information:
Media Contacts:

Jennifer Torode
Sophos
(781) 494-5885

508-416-1186