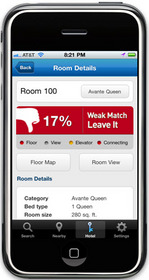 The Room 77 iPhone app will instantly advise travelers whether or not to ¿take it¿ or ¿leave it,¿ eliminating the hassle of walking all the way to the room only to discover the room does not meet expectations.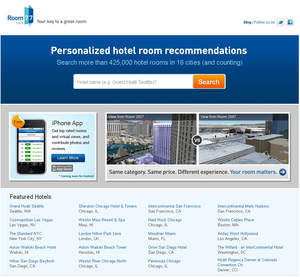 Room 77 is the world¿s first hotel room database and search engine, providing consumers with unprecedented detail about each guestroom at hundreds of 3- to 5-star properties.
SUNNYVALE, CA--(Marketwire - February 24, 2011) - As any road warrior knows, which hotel room you get is always a bit of a gamble -- sometimes you score a great room and sometimes you don't -- which can easily impact your entire travel experience. As of today, Room 77 stacks the odds in the traveler's favor, launching the world's first hotel room database and search engine in public beta. Targeting three-star and above properties, Room 77 has collected and indexed data on more than 425,000 hotel rooms in 2,500 properties and plans to grow that exponentially with the help of travelers and hotels. In its debut, Room 77 has concentrated its content in 16 destinations in North America and the United Kingdom and expects to add new markets regularly.
Currently accessible through its free website and iPhone app, Room 77 provides travelers with specific details about each hotel room at a property, including the room category, square footage, bed type, elevator proximity and if it is a connecting room. For each room, Room 77 also generates a virtual Room View, simulating the actual view from that room's window using patent-pending Google Earth-enabled technology.
The best rooms for each traveler are automatically ranked using Room 77's proprietary Room Rank algorithm that adjusts to each individual's preferences for high or low floor, distance from elevator, view importance and need for connecting rooms. Each room is then scored with a color-coded match percentage indicating: "strong match" (green), "fair match" (yellow) and "weak match" (red). These colors also correspond to an interactive floor plan map that highlights each room's precise location within the hotel. Once preferred rooms are identified, Room 77 makes it easy for travelers to turn this data into action through its "Request a Room" link; this section reveals helpful insider tips on how to request room(s) directly from the hotel and increase the probability of securing one.
"All hotel rooms are not created equal and we've built Room 77 to open up room data and give travelers more control in getting a great room. Travelers have several options that rate and review hotels, but until now there's nothing that breaks down hotel rooms even though the room is a critical part of the experience," said Brad Gerstner, founder and chairman of Room 77. "Our team has taken the first step to creatively collect and present this data and now we're inviting the millions of travelers who check in and out of hotels every month to help in this effort."
The Room 77 iPhone App is the perfect travel companion, providing location-based hotel suggestions and hotel room data on-the-go. This app comes in handy before check-in, when a traveler calls the front desk and requests one of their preferred rooms. And, the app can be a check-in lifesaver while at the front desk: a traveler simply enters the room number offered by the clerk and Room 77 instantly advises if you should "take it" or "leave it", and offers alternate suggestions. This eliminates the pain and hassle of trekking all the way to the room, only to find it overlooks the garbage dumpster or has some other less-than-desirable attribute.
The app also has built-in features that make it easy for travelers to help crowd source Room 77's growing database. In a few clicks, travelers can rate and review a room, verify data accuracy and upload interior room and view photos. Users can also help "sleuth" data on hotels not yet in the system by simply snapping a photo of the exit floor plan, typically available on the back of each guestroom door.
While the majority of hotel room data has been collected through the legwork of Room 77's agile staff through official and unofficial means, the company is already working directly with major hotel chains and individually owned properties to validate and expand data.
"At Starwood the strength of our brands, our incredible associates and our world-class hotels set us apart in the eyes of our guests." said Matt Avril, president hotel group for Starwood Hotels & Resorts. "We support consumer empowerment and believe that the more information guests have access to when comparing hotel options, the more our brands and hotels stand out as great destinations. We look forward to working with the Room 77 team as they launch their new service."
Travelers will be able to quickly identify properties that have validated data by a "Hotel Verified" badge placed on the hotel's page. Some current examples include the Nine Zero Hotel in Boston, Hard Rock Chicago, Grand Hyatt Seattle, Andaz West Hollywood, Mark Hopkins in San Francisco, Cosmopolitan in Las Vegas and the Aston Waikiki Beach Hotel.
Room 77 expects to add new features, data, mobile platforms and cities in the months ahead. The 16 destinations with concentrated data at launch include: Atlanta, Boston, Chicago, Denver, Honolulu, Las Vegas, London, Los Angeles, Maui, Miami, New York, Orlando, San Diego, San Francisco, Seattle and Washington, D.C.
"Now that we've built the base platform to house hotel room data globally, our goal is to continue expanding our content while also exploring ways we can integrate Room 77's data more closely with hotel property management systems -- all to provide a more seamless experience for travelers," added Gerstner. "We know from research that the vast majority of travelers1 who stay in hotels and shop online want room-level data from a service like ours so we're incredibly excited to hand over the keys and open the doors to Room 77."
In addition to Gerstner, Room 77 is backed by a number of travel and technology entrepreneurs and institutional investors, including Rich Barton (founder of Expedia and Zillow), Erik Blachford (former president and CEO of IAC Travel), Bob Pittman (founder of MTV), and Hugh Crean (former president and CEO of Farecast), among others. Other investors include Par Capital Management, an early investor in ITA, Farecast, and Orbitz; Sutter Hill Ventures, which also invested in Farecast; and Felicis Ventures among others.
1 Survey conducted online by Harris Interactive on behalf of Room 77 between February 1-3, 2011: 84% of online adults say they would be interested in an online service that reveals details about specific hotel rooms, such as size, layout, amenities, views, etc. before check in. And more than one-third (34%) say they'd be very interested.
About Room 77
Room 77 is the world's first hotel room database and search engine, providing consumers with unprecedented detail about each guest room at thousands of three- to five-star properties. The company has developed proprietary technology, including its Room Rank algorithm that scores every room, based on the traveler's preferences, and the virtual Room View, which simulates the actual view from each room using Google Earth. Accessible through the Web and its free iPhone app, Room 77 is designed to go where travelers do and also offers tools and features that enable travelers to "sleuth" room data and help build the growing database. Officially founded in 2009, Room 77 secured its seed round in 2010, raising $3 million dollars from leading entrepreneurs and institutional investors, including: the company's founder Brad Gerstner, Rich Barton, Bob Pittman, Hugh Crean, Par Capital Management, Sutter Hill Ventures, and Felicis Ventures, among others. For more information, visit the Room 77 blog or follow the company on Facebook (www.facebook.com/bestrooms) and Twitter (@Room_77).