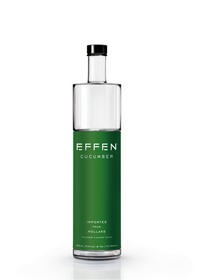 EFFEN(R) Vodka freshens up your cocktails with the introduction of EFFEN(R) Cucumber Vodka.
DEERFIELD, IL--(Marketwire - February 24, 2011) - Tapping into the cucumber cocktail trend, EFFEN® Vodka is launching its newest flavor option, EFFEN® Cucumber Vodka. Inspired by the essence of freshly harvested vine ripened cucumbers, this new vodka further embodies EFFEN's smooth, clean, crisp taste that vodka lovers have come to expect from the brand.
Delicate yet distinctive, EFFEN® Cucumber Vodka offers a refreshing twist for your next cocktail, including the classic Bloody Mary. It is crisp and clean, pairing well with melons such as cantaloupe and watermelon and provides a unique twist on traditional martinis.
"When we decided to expand the EFFEN line, we searched for a flavor that fit the modern character and Super Premium nature of our brand," said Kim Washington, Senior Director, Vodkas for Beam Global Spirits & Wine. "Cucumber is one of the most exciting flavors being used in today's top bars and high-end restaurants, making it the perfect fit for the EFFEN line. It's unique, but not unapproachable."
EFFEN Cucumber Vodka is made using natural ingredients and premium spirits distilled from wheat, rendering a crisp, clean cucumber flavor without the use of sugar or artificial flavors. The vodka is made using a "continuous distillation" process in which the liquid is circulated in giant stainless steel columns many times.
"The crisp flavor of the cucumber and the smoothness of EFFEN's Super Premium vodka have been married perfectly in this modern, balanced spirit," said David Nepove, National President of the U.S. Bartender's Guild. "EFFEN Cucumber Vodka adds an unexpected layer of flavor to your favorite cocktails."
To demonstrate its versatility and unique flavor, EFFEN recommends the below EFFEN Cucumber cocktails:
EFFEN® Cucumber Bloody Mary
2 parts EFFEN® Cucumber Vodka
2 Basil Leaves, torn
4 parts Tomato Juice
¾ part Bloody Mary Seasoning
Combine ingredients in a cocktail shaker over ice and shake. Pour into a serving glass with ice and garnish with a lime wheel and fresh basil leaf.
EFFEN® Cucumber Coconut Palm (created by David Nepove)
1½ parts EFFEN® Cucumber Vodka
1½ parts Coconut Water
1 Small Kiwi or Half of a Large Kiwi, peeled
¾ parts Lemon Juice
¾ parts Simple Syrup
Combine ingredients, squeezing or muddling the kiwi, into a cocktail shaker. Add ice and shake. Strain and pour into a tall glass with ice.
EFFEN Vodka is a Super Premium vodka whose name means smooth, even and balanced in Dutch. It is made from 100% premium wheat, which results in a silky, smooth liquid and the best vodka you can buy. As the only vodka made by bartenders for bartenders, EFFEN Vodka's bottle design features a non-slip sleeve that is carefully affixed to each bottle by hand. In addition to EFFEN Vodka, the brand line also features EFFEN® Black Cherry Vodka, EFFEN® Dutch Raspberry Vodka and now, EFFEN® Cucumber Vodka.
At 75 proof, EFFEN Cucumber Vodka will be available nationwide in March with a suggested retail price of $29.99 for a 750 ml bottle. For more information on EFFEN Vodka, please go to http://www.facebook.com/effenvodka.
About EFFEN® Vodka
Acquired by Beam Global in June 2009 from the Sazerac Company, the super-premium EFFEN Vodka rounded out the company's vodka portfolio. As the only vodka created by the industry, for the industry, EFFEN offers not only a world-class liquid but a sleek, form-meets-function design. The EFFEN line includes EFFEN® Vodka, EFFEN® Black Cherry Vodka, EFFEN® Dutch Raspberry Vodka and now, EFFEN® Cucumber Vodka. EFFEN is sold worldwide and is available in 50ml, 375ml, 750ml and 1.75L bottles.
About Beam Global Spirits & Wine, Inc.
Beam Global Spirits & Wine, Inc. ("Beam Global") is one of the world's largest premium spirits companies, encompassing a portfolio of nearly 100 brands (including eight of the world's top-100 premium spirits brands), more than a dozen global operating and commercial facilities and 3,500 employees worldwide. Consumers from all corners of the globe call for our brands, including Jim Beam® Bourbon, Sauza® Tequila, Canadian Club® Whisky, Courvoisier® Cognac, Teacher's® Scotch Whisky, Maker's Mark® Bourbon, Laphroaig® Scotch Whisky, Cruzan® Rum, Hornitos™ Tequila, EFFEN® Vodka, Larios® Gin, Whisky DYC®, DeKuyper® Cordials and Knob Creek® Bourbon. Growth through innovation is a key strategy at Beam Global, with Red Stag by Jim Beam® Bourbon, Cruzan® 9 Rum, Maker's 46™ Bourbon and Courvoisier® 12 Cognac and Courvoisier® 21 Cognac all being launched as new products over the past two years. Beam Global is part of Fortune Brands, Inc. (NYSE: FO), a leading consumer brands company. For more information on Beam Global, its brands, and its commitment to social responsibility, visit www.beamglobal.com and www.drinksmart.com.
drink smart
EFFEN® Cucumber Flavored Vodka, Distilled from Grain, 37.5% alc./vol. (75 proof) © 2011 EFFEN Import Company, Deerfield, IL
Contact Information:
CONTACTS:
Katie Kirby
Beam Global Spirits & Wine, Inc.
(224) 515-0954
katie.kirby@beamglobal.com

Marisa Hagerman
DBC PR + New Media
(202) 292-4570
EFFEN@dbcpr.com