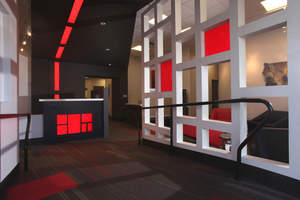 The Memphis College of Art, photo courtesy of Troy Glasgow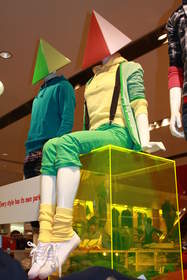 Uniqlo London store, photo courtesy of Beckie Norris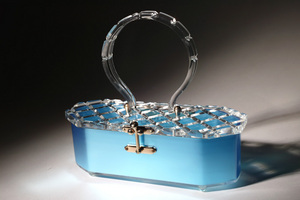 Vintage Lucite handbag, photo courtesy of Lucite
MEMPHIS, TN--(Marketwire - February 24, 2011) - Lucite International, owner of the LuciteLux™ acrylic, today announced it will host an exhibition at Material ConneXion in New York City to celebrate the brand's 75th anniversary. The exhibition opens on May 10 and will remain on display through June 10, 2011.
Lucite will showcase the winning prototypes from its Carry Me! handbag design competition along with a rare collection of vintage handbags that inspired the competition. The exhibit will also include a series of current product applications, which demonstrate the versatility of Lucite® and its use in a wide range of industries -- from architecture and furnishings to industrial design and retail merchandising.
"Material ConneXion is the ideal venue to explore the past, present and future of designing with Lucite®," said Chris Robinson, business manager at Lucite International. "Our venerable product has made a significant impact on the design, fashion and art worlds over the last several decades. As such we are not only celebrating where the brand has been but also its potential for the future."
Material ConneXion is a global materials consultancy that helps companies innovate through smart materials thinking. Its vast Materials Library, which includes Lucite®, is a go-to resource for the world's leading designers and architects.
Originally created by DuPont, commercial production of Lucite® began in 1936. During World War II, it was used for submarine periscopes, windshields and canopies as well as gun turrets for airplanes. Handbag, jewelry and furniture designers made Lucite a must-have material in the 1950s. Now called Lucite International, the company is a subsidiary of Mitsubishi Rayon but the material is still manufactured just outside Memphis. Lucite® is easy to cut, join, form and fabricate and continues to be popular today in fashion, interior design and architecture circles. When looking to incorporate modern design elements into the state dinner, White House interior designers added Lucite® chairs to the dining room table to create a contemporary look for the evening.
"Lucite® is revered by designers from every discipline for its beauty, flexibility and durability," said George M. Beylerian, founder and CEO of Material ConneXion. "We look forward to sharing this moment in design history with the thousands of designers who come through our space to learn about the latest innovations in material solutions."
Alexis Bittar, the world-renowned jewelry designer famous for incorporating Lucite® acrylic into his creations, was among the judges who selected the Carry Me! competition winners.
Material ConneXion Address:
60 Madison Avenue, 2nd floor, between 26th & 27th Streets, New York City
www.MaterialConneXion.com
Exhibition Hours: May 10 - June 10, Monday through Friday, 9am - 6pm
Special ICFF Hours: Saturday, May 14th & Sunday, May 15th, 10am - 5pm
Note to Media: An invite-only reception will take place on Tuesday, May 10th from 6 - 8pm. Please be in touch with media contact to RSVP.
About LuciteLux™
Nothing stands in the way of creativity with LuciteLux™. The material is easy to cut, join, form and fabricate. As tough as it is beautiful, LuciteLux resists scratching and its peerless UV protection keeps colors true. LuciteLux acrylic offers a dazzling palette of colors, textures and thicknesses for point-of-sale uses, displays, signage, furnishings, fashion accessories, fittings and virtually anything else you can imagine. LuciteLux pushes the edge of design and durability.
About Material ConneXion®
Material ConneXion is a global materials consultancy and library of innovative and sustainable materials. Built on the belief that Every Idea Has A Material Solution™, Material ConneXion is the trusted advisor to Fortune 500s, smaller forward-thinking companies, and government agencies seeking a creative, competitive, or sustainable edge through strategic material selections. With offices in New York, Bangkok, Cologne, Milan and Daegu, Korea, Material ConneXion's international network of specialists provides a global, cross-industry perspective on materials and their potential uses. Material ConneXion maintains the largest subscription-based Materials Library of innovative materials and processes in the world -- a vital design tool and an indispensable asset to a wide audience of designers and architects and a vital design tool for the development of design, industry and economy.