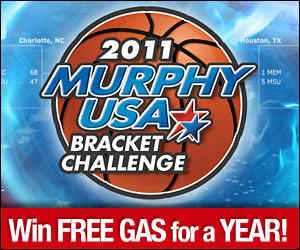 Enter the 2011 Murphy USA Bracket Challenge for a chance to win a year worth of Free Gas.
EL DORADO, AR--(Marketwire - February 24, 2011) - Murphy USA announces their 2011 Murphy USA Bracket Challenge today, with four winners receiving a year's worth of free gasoline. Registration is open and will continue through 4PM, Central Time, March 15th. Beginning Sunday, March 13th at 8PM, contestants will be able to fill in their brackets by selecting the winning team in each game of the Men's NCAA Division I Basketball Tournament. Points will be awarded for correctly choosing the winner for each game. A schedule of points is available in the bracket challenge official rules.
This marks the third year that Murphy USA is offering the NCAA Tournament "Bracket Challenge" as a free-entry contest for its customers. The Murphy USA Bracket Challenge pits contestants against each other from 4 regions of the country, with 1 winner in each area receiving the grand prize -- A Year's Worth of Free Gas (actual retail value is $1,800.00 US Dollars).
Registration is open now through March 15th. Beginning on March 13th at 8PM, participants will be able to make their bracket selections. Picks must be submitted by 4PM Central Time on March 15th. To register, read official rules and find instructions on how to play, visit MurphyUSABracketChallenge.com.
Murphy USA is currently operating over 1,104 retail stores in 22 states. Murphy USA is committed to providing customers with the lowest retail gasoline prices possible, and promotions, like the Bracket Challenge, are a way for the company to show appreciation for their customers' continued business. Murphy USA can be found on their homepage, on Twitter as @MurphyUSA or on their Facebook Fan page.
For more information on Murphy USA or the Murphy USA Bracket Challenge, contact Casey Petersen at casey_petersen@murphyoilcorp.com or 870-875-7643.