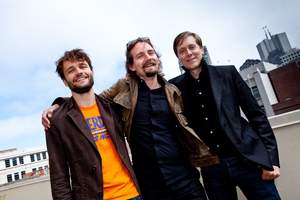 Unity Technologies Co-Founders: Joachim Ante (Chief Technology Officer), Nicholas Francis (Chief Creative Officer) and David Helgason (Chief Executive Officer)
SAN FRANCISCO, CA--(Marketwire - March 1, 2011) - Today at GDC, Unity Technologies, provider of the Unity development platform for games and interactive 3D on the web, iOS, Android, consoles and beyond, showcased how it is delivering on its vision of democratizing game development and making it possible for everyone to create rich interactive 3D content.
"Since its introduction in 2005, Unity has gone from bedroom geekery to truly mainstream and won dozens of prestigious awards and accolades including The Wall Street Journal Tech Innovation Award," said David Helgason, CEO of Unity Technologies. "And then we did something last year we haven't done since 2005: we launched a new way of doing business with the Asset Store digital content marketplace and Union game syndication in order to accelerate the democratization of interactive 3D technology. More than 400,000 developers can."
Unity
Unity Technologies married mature and polished tools with bleeding edge engine technology, created a very simple, clean and approachable licensing model for the masses and made an early bet on web and mobile before it was clear they would be gaming devices. The company went on to make Unity freely available in 2009. Today Unity is the #1 game development platform on the market and has more than 400,000 developers. Because Unity features "Author Once, Deploy Anywhere" support for every major gaming platform, developers can quickly reach huge audiences for their games.
Web
Unity is the de facto choice for delivering high quality 3D content on the web. Pioneering its use of the Unity Web Player to run Unity content inside all major browsers and operating systems, Unity has established a widely-used standard for 3D content in browsers with an install base that now exceeds 45 million installs. Unity powers browser-based games for global brand names like Electronic Arts, Bigpoint, Axe, Cadbury Crunchie, Cartoon Network, Cheerios, Coca-Cola, DC Comics/Warner Bros., Disney, Gorillaz, Iron Man, LEGO, Looney Tunes/Warner Bros., Marvel Super Hero Squad, Pepsi, Tiger Woods and Battlestar Galactica Online; and Unity has a growing presence on both gaming portals and social networking sites.

Mobile
Currently the most widely-used middleware in games for the App Store, Unity is a clear market leader in this important segment. It's been estimated that more than half of game developers creating content for the App Store are using game engine middleware, and that more than half of those developers are using Unity. More than 1000 Unity games are in the App Store today with dozens having made "best of" and "top selling" lists like Skee-Ball, Zombieville USA, Samurai II and Battleheart. Unity also powers training apps like Launcher Dogs for the US Military. Today at GDC, Unity Technologies released support for Android so developers can quickly deploy their games, including their iOS games, to Android and reach new customers.

Console
Unity supports all the major gaming consoles -- Wii, Xbox 360 and PlayStation 3. Sony Online Entertainment just unveiled the first Unity-powered Sony PlayStation 3 game -- Rochard.
Unity Asset Store
The Unity Asset Store is a digital marketplace where developers can share and sell assets to accelerate development, and it's quickly becoming the #1 marketplace of choice for Unity developers. The Unity Asset Store catalog has grown to more than 300 packages including a variety of offerings such as editor extensions, free tutorials, art packs and advanced script libraries. The majority of these assets have been produced by the Unity development community -- who individually are bringing in revenues of thousands of dollars each month monetizing their assets.
Union
Union is a business unit of Unity Technologies dedicated to syndicating high quality 3D games on mobile phones, tablets, set-top boxes, connected TVs and other new platforms. More than 1000 developers representing more than 1000 Unity-authored titles have registered with Union. The first wave of titles from Union is expected to reach the market in the summer. Union recently announced a partnership with Sony Ericsson to enable rapid development and porting of Unity-based games to the new Sony Ericsson Xperia™ PLAY smartphone.
Education
Unity has become the platform of choice for teaching students how to design and develop games. With the rapid growth of game design, game programming and game art courses at higher education institutions, Unity is being integrated into academic programs throughout the world. Hundreds of schools have adopted Unity for non-game multimedia, architectural, medical imaging, augmented reality, consumer design and simulation courses in acclaimed schools and universities across the globe.
Helgason continued: "We thrive on innovation and excellence. We heavily reinvest in development so that we can keep moving and growing at a radical pace and continue to raise the bar for innovation, amaze our customers and ultimately democratize game development."
GDC and Unity
GDC is holding the first ever Unity Track so that attendees can get a crash course on Unity. Unity's next-generation capabilities will be featured in Unity Technologies' booth #1416. In the booth's Partner Pavilion, Aquiris Game Studio, Artificial Technology, Electrotank Inc., Exit Games, Mixamo, Nickelodeon, Noesis Interactive, NVIDIA, Qualcomm Inc. and Unity Studios will demonstrate the mind-blowing innovations they created using Unity. To get the free and feature-packed Unity for creating games and interactive visualizations, simply visit: http://unity3d.com/unity/download.
About Unity Technologies
Unity Technologies is revolutionizing the game industry with Unity, its award-winning breakthrough development platform. Unity Technologies has more than 400,000 registered users worldwide -- including Bigpoint, Cartoon Network, Coca-Cola, Disney, Electronic Arts, LEGO, Microsoft, NASA, Ubisoft, Warner Bros., large and small studios, indies, students and hobbyists -- all using Unity to create games and interactive 3D, like training simulations and medical and architectural visualizations, on the web, mobile, consoles and beyond. Unity Technologies is aggressively innovating to expand usability, power and platform reach along with its Asset Store digital content marketplace and Union game syndication so that it can deliver on its vision of democratizing interactive 3D technology. Unity Technologies is headquartered in San Francisco and has development offices worldwide. For more information, visit: http://unity3d.com.
Facebook: http://www.facebook.com/unity3d
Twitter: http://twitter.com/unity3d
Contact Information:
Media Contacts:
Amber Rowland
pr@unity3d.com
+1 (650) 814-4560

Chris Clarke
pr@unity3d.com
+44 7590 509278