Vicksburg offers true Southern hospitality and charm.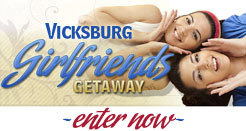 Enter the Vicksburg Girlfriends Getaway for a chance to win.
VICKSBURG, MS--(Marketwire - March 2, 2011) - The Convention and Visitors Bureau of Vicksburg, Mississippi has announced a Girlfriends Getaway sweepstakes offering a two day shopping and dining trip for two in historic Vicksburg, "The Key to the South."
The two-day getaway features a "Shop Vicksburg" package with 100 Downtown Dollars good for purchases in historic downtown Vicksburg shops, a $75 gift certificate to Vicksburg's Pemberton Square Mall and a $25 gift certificate to the Outlets of Vicksburg plus two VIP cards for special discounts. The prize package also includes "dinner for two" at two of Vicksburg's finest restaurants and two movie tickets to the Wilcox Theatres at the Vicksburg Mall.
For rest and relaxation, winners will receive a two-night stay in their choice of a Vicksburg luxury hotel or historic Bed and Breakfast. Girlfriends will also be treated to a spa package with massage, manicure and pedicure treatments at one of Vicksburg's top rejuvenation spas.
Plus VIP Tickets to April Events -- Winners who visit in the month of April can sample the local culture with two VIP passes to Tapestry, the Pilgrimage to Vicksburg, a tour of historic Vicksburg homes and heritage that takes visitors through some of the city's most notable properties. Winners who visit April 15-16 can enhance their stay with two VIP passes to Jazz Fest and the Vicksburg Riverfest Music, Arts & Crafts Festival, a weekend celebration with live entertainment, Southern food and local handmade works of art.
Participants can enter the Girlfriends Getaway sweepstakes on the Vicksburg Convention and Visitors website at Visitvicksburg.com/girlfriend-getaway . Those who enter the contest can also sign up to receive the Vicksburg CVB e-newsletter and travel guide. The Girlfriends Getaway sweepstakes will run through March 31, 2011.