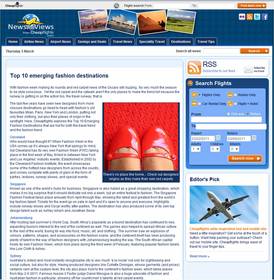 Blog post of Cheapflights.com's list of Top 10 Emerging Fashion Destinations. While the red carpet award season is still buzzing and with fashion week making its rounds, it is very much the season to be style conscious. The editors at Cheapflights went off the beaten track in search of the world's top emerging fashion destinations. The cities to make this list celebrate fashion and are putting not only their clothing, but also their places of origin in the spotlight.
BOSTON, MA--(Marketwire - March 3, 2011) - As the city of Miami kicks off its Fashion Week today, Cheapflights.com, the online leader in finding and publishing travel deals, further explores the expanding world of fashion with its list of Top 10 Emerging Fashion Destinations. The cities to make our list are going head to head with the fashion capitals of the world -- Milan, Paris, New York and London -- and adding to the list of runway worthy destinations.
Below are five destinations to make the list that are all home to up-and-coming designers and budding fashion scenes:
The next five destinations to make our list of Emerging Fashion Destinations and that are also celebrating their respective Fashion Weeks in the upcoming months include Cleveland, Toronto, Sydney, Dubai and Tokyo. To read all the details, visit http://news.cheapflights.com/2011/03/top-10-emerging-fashion-destinations/.
About Cheapflights Media
Cheapflights Media is an international media network providing users with different ways to find low cost travel. Since 1996, Cheapflights Media has been helping consumers research, compare and save on domestic and international travel. Our flagship brand, Cheapflights, is one of the largest flight deals publishers, delivering over 4 million deals daily. With brand-name deals on airline tickets from more than 300 partners and 600 airlines and a team of travel experts hand picking the best offerings, Cheapflights offers visitors a mix of deals they can't find anywhere else. zugu, the newest brand in the Cheapflights Media portfolio, is a powerful and simple travel search engine that makes it easy to compare and select the lowest available fares online. By organizing flight options by date, airline and time, zugu helps consumers find the best fares based on their travel terms. There are currently Cheapflights-branded sites for the U.K., U.S., Canada, Germany, Australia & New Zealand, France, Italy and Spain. zugu is available in the U.K., U.S. and Germany. For more information, visit www.cheapflights.com.
Contact Information:
Contact Information:
Dalia Blumenthal
Publicist
Tel: +1 416-926-1967
Mobile: +1 416-788-4573
E-mail:
Website: www.cheapflights.com