Given Imaging Supports Dress in Blue Day - Los Angeles, California Office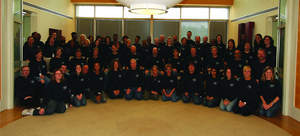 Given Imaging Supports Dress in Blue Day - Duluth, Georgia Office
YOQNEAM, ISRAEL--(Marketwire - March 4, 2011) - Given Imaging Ltd. (NASDAQ: GIVN), a world leader in specialty GI products and pioneer of capsule endoscopy, today announced that employees in its Duluth, Georgia, and Los Angeles, California, offices dressed in blue in support of the national awareness initiative promoted by the Colon Cancer Alliance. The Dress in Blue Day and proud display of the Blue Star, a symbol representing the fight against colorectal cancer, kick off a series of activities the company initiated in support of Colorectal Cancer Awareness Month.
Next week, Given Imaging will send a small group of employees to Washington, D.C., to "Call on Congress" in an effort to fight colorectal cancer, the second-leading cause of cancer deaths in America. The event will help train colorectal cancer advocates -- patients, survivors and caregivers -- on how to create open and effective discourse about this deadly disease with their elected officials. On the second day of the event, attendees will take their learnings to the halls of Congress, armed with colorectal cancer information, state-specific statistics, and a call to action to support colorectal cancer legislation that will save money and save lives. Given Imaging is a sponsor of the final event of the Call on Congress, the Colorectal Cancer Coalition's Annual Advocacy Dinner Celebration. To learn more about the Colorectal Cancer Coalition's Call on Congress Day 2011, please visit: http://fightcolorectalcancer.org/policy/call-on_congress.
Additionally, Given Imaging has created a free interactive e-card for people turning fifty years old to encourage routine colorectal cancer screening. The e-card incorporates the Blue Star, and is available by visiting www.AndManyMore.org.
"Colorectal cancer is often a preventable disease when detected early. We at Given Imaging want to support these important patient organizations, such as Colorectal Cancer Coalition and Colon Cancer Alliance, that do so much to raise awareness and fight this important battle," said Homi Shamir, president and chief executive officer, Given Imaging Ltd.
About Colorectal Cancer
Colorectal cancer remains a potentially fatal disease that generally can be prevented through early detection. Colon cancer occurs in the large intestine (colon), the lower part of the digestive system, while rectal cancer occurs in the last 15-20 centimeters of the colon. Together, they're often referred to as colorectal cancers.
Colon and rectal cancers begin in the digestive system and develop when cells that line the colon or the rectum become abnormal and grow exponentially. Most cases of colorectal cancer begin as small, non-cancerous (benign) clumps of cells called adenomatous polyps. Only certain kinds of polyps have the potential to become cancerous, and in most people, colorectal cancers develop slowly over a period of several years. In the US alone, more than 51,000 people will die from colorectal cancer in 2010(1).
About the Blue Star
Introduced on April 1, 2004, by the National Colorectal Cancer Roundtable (NCCRT), the Blue Star symbol represents the fight against colorectal cancer.
The Blue Star has already been adopted by nearly all of the major groups in the colorectal cancer community, symbolizing their united effort in the battle to prevent colorectal cancer deaths. The star represents the eternal memory of the people whose lives have been lost to the disease and the shining hope for a future free of colorectal cancer. The star, merged with a ribbon to represent increased awareness, assumes a human shape.
The Blue Star raises awareness about how to prevent colorectal cancer, the nation's third-leading cause of cancer death in both men and women. The NCCRT encourages organizations to incorporate the Blue Star and the universal message that colorectal cancer is preventable, treatable, and beatable into their communications and awareness efforts. For more information please visit: www.bluestarforcoloncancer.org.
About Given Imaging Ltd.
Since 2001, Given Imaging has advanced gastrointestinal visualization by developing state-of-the art, patient-friendly tools based on its PillCam® Platform. PillCam® capsule endoscopy uses wireless technology and advanced software to provide physicians with clear images of the small intestine via PillCam® SB and the esophagus through PillCam® ESO. The PillCam® capsules are miniature video cameras that patients ingest. Given Imaging's other capsule products include Agile™ patency capsule, to verify intestinal patency, and Bravo® , the only wireless, catheter-free, 48-hour pH test commercially available for pH testing to assess gastroesophageal reflux disease (GERD). In April, 2010, Given Imaging acquired Sierra Scientific Instruments, the leading provider of specialty GI diagnostic solutions and pioneer of high-resolution manometry for assessing gastrointestinal motility. Sierra Scientific is now a wholly-owned subsidiary of Given Imaging. Given Imaging's headquarters, manufacturing and R&D facilities are located in Yoqneam, Israel, with operating subsidiaries in the United States, Germany, France, Japan, Australia, and Hong Kong. For more information, please visit www.givenimaging.com.
Forward-Looking Statements
This press release contains forward-looking statements within the meaning of the "safe harbor" provisions of the U.S. Private Securities Litigation Reform Act of 1995. These forward-looking statements include, but are not limited to, projections about our business and our future revenues, expenses and profitability. Forward-looking statements may be, but are not necessarily, identified by the use of forward-looking terminology such as "will," "may," "anticipates," "estimates," "expects," "intends," "plans," "believes," and words and terms of similar substance. Forward-looking statements involve known and unknown risks, uncertainties and other factors which may cause the actual events, results, performance, circumstances or achievements of the Company to be materially different from any future events, results, performance, circumstances or achievements expressed or implied by such forward-looking statements. Factors that could cause actual events, results, performance, circumstances or achievements to differ from such forward-looking statements include, but are not limited to, the following: (1) our ability to develop and bring to market new products, (2) our ability to successfully complete any necessary or required clinical studies with our products, (3) our ability to receive regulatory clearance or approval to market our products or changes in regulatory environment, (4) our success in implementing our sales, marketing and manufacturing plans, (5) the level of adoption of our products by medical practitioners, (6) the emergence of other products that may make our products obsolete, (7) lack of an appropriate bowel preparation materials to be used with our PillCam COLON capsule, (8) protection and validity of patents and other intellectual property rights, (9) the impact of currency exchange rates, (10) the effect of competition by other companies, (11) the outcome of significant litigation, (12) the availability of reimbursement or other forms of funding for our products from government and commercial payors, (13) quarterly variations in operating results, (14) the possibility of armed conflict or civil or military unrest in Israel, (15) the impact of global economic conditions, (16) our ability to successfully integrate acquired businesses, (17) changes and reforms in applicable healthcare laws and regulations, and (18) other risks and factors disclosed in our filings with the U.S. Securities and Exchange Commission, including, but not limited to, risks and factors identified under such headings as "Risk Factors," "Cautionary Language Regarding Forward-Looking Statements" and "Operating Results and Financial Review and Prospects" in the Company's Annual Report on Form 20-F for the year ended December 31, 2009. You are cautioned not to place undue reliance on these forward-looking statements, which speak only as of the date of this press release. Except for the Company's ongoing obligations to disclose material information under the applicable securities laws, it undertakes no obligation to release publicly any revisions to any forward-looking statements, to report events or to report the occurrence of unanticipated events.
---
(1) http://www.cancer.org/cancer/colonandrectumcancer/detailedguide/colorectal-cancer-key-statistics
Contact Information:
For further information contact:
Fern Lazar/David Carey
Lazar Partners Ltd.
212-867-1768