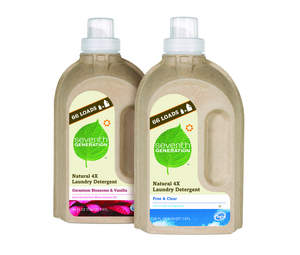 Seventh Generation Natural 4X Laundry Detergent in Geranium Blossoms & Vanilla and Free & Clear.
ANAHEIM, CA--(Marketwire - March 9, 2011) - Seventh Generation, the nation's leading brand of non-toxic household and personal care products, introduces a cutting-edge advancement in the art of sustainable product packaging -- a new liquid laundry detergent bottle made from 100 percent recycled cardboard and newspaper.
Seventh Generation's Natural 4X Laundry Detergent bottle, designed with its partners at Ecologic Brands, is unlike any other packaging currently found in the laundry aisle -- or any other aisle, for that matter. It features a rugged, fully-recyclable and even compostable outer shell made from 70 percent recycled cardboard fibers and 30 percent old newspaper fibers that supports a recyclable lightweight plastic pouch inside. By using 66 percent less plastic than typical 100 ounce 2X detergent bottles, the new container allows consumers to conserve effortlessly.
The Natural 4X Laundry Detergent will be available on natural retailer shelves throughout the country by the end of March.
"This is exactly what so many have been waiting for," says Julie Corbett, CEO and Founder of Ecologic Brands. "The Ecologic bottle represents consumer empowerment. The ability to choose the products they love in a sustainable package made from cardboard is a choice they've never had before. Twenty years ago, Seventh Generation created cleaning and personal care products that are safe for consumers and the earth. With the Ecologic bottle, Seventh Generation continues its mission by introducing a sustainable product that is good from the inside and out."
The new bottle, made from recycled fibers, can be upcycled into new packaging that's recycled yet again up to seven times. Keeping track of all that may send your head into a spin cycle, but it's actually very simple: When empty, the bottle's shell can be popped open and recycled with other household paper. The #4 plastic pouch and the #5 cap go into the nearest plastic recycling bin.
"This is the one of most sustainably packaged products in the laundry aisle," says Peter Swaine, Seventh Generation's Director of Packaging Development. "Consumers who use this product will automatically make a positive impact on the environment, even before their first laundry load."
There's good news waiting inside the new bottles, too. That's where consumers will find Seventh Generation's new 4X laundry detergent. Made for both standard and HE machines, the new formula is twice as concentrated as the company's 2X formula and doubles the savings in terms of water and energy from transportation. Each space-saving bottle contains an extraordinary 66 loads of soil-fighting power that employs a brand new multi-enzyme formula, which attacks a wider range of recalcitrant stains than ever before.
It debuts today at Natural Products Expo West in Anaheim, California, where Seventh Generation will open its Cardboard Café. The Café lounge area will be the first in the nation to let guests relax on furniture that may one day end up under the sink in their laundry rooms. Seventh Generation also retains ownership of three tons of cardboard waste generated at the tradeshow to introduce into Ecologic's manufacturing process of the new bottles.
ABOUT SEVENTH GENERATION
Seventh Generation is committed to being the most trusted brand of household and personal-care products for your living home. Our products are healthy solutions for the air, surfaces, fabrics, pets and people within your home -- and for the community and environment outside of it. Seventh Generation also offers baby products that are safe for your children and the planet. The company derives its name from the Great Law of the Iroquois Confederacy that states, "In our every deliberation, we must consider the impact of our decisions on the next seven generations." Every time you use a Seventh Generation product you are making a difference by saving natural resources, reducing pollution, and making the world a better place for this and the next seven generations.
For information on Seventh Generation cleaning, paper, baby and feminine personal care products, to find store locations, and explore the company's website visit www.seventhgeneration.com. To read more about Seventh Generation's corporate responsibility, visit the 2009 Corporate Consciousness Report at: www.7genreport.com.
ABOUT ECOLOGIC BRANDS
Ecologic Brands' innovative new bottles are an eco-sensitive alternative to plastic jugs and non-recyclable containers. The Oakland, California-based company's goal is to finally give consumers and brands a sustainable choice in the packaging of everyday liquid products like detergent, household cleaners, milk and juice. Ecologic's hybrid bottle combines a rigid outer shell made from recycled cardboard and newspaper, with a lightweight inner pouch. The result is an outer shell that can be recycled with paper or composted, and a #4 pouch that can be recycled and uses less plastic. See the future of packaging at www.ecologicbrands.com.
Contact Information:
Contact:
Meghan Butler
Seventh Generation
(512) 657-4548
meb@seventhgeneration.com
www.seventhgeneration.com