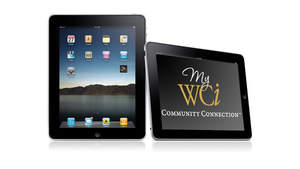 Florida-based developer and homebuilder WCI Communities has launched 'MyWCi,' a custom application loaded onto iPads the company now gives to each new home purchaser. YouTube demo: www.youtube.com/watch?v=WIU0ucg-ssc
BONITA SPRINGS, FL--(Marketwire - March 9, 2011) - WCI Communities announced today that it has introduced MyWCi, an application for Apple's iPad device that enables new home purchasers to access and share important community and construction information during the build process and beyond. Customers are able to access MyWCi on iPads provided as gifts by WCI to buyers of the company's new homes.
MyWCi is an effort to engage the company's buyers, residents and club members in a unique, user-friendly way that captures the benefits of today's cutting-edge technology. The pilot program was launched in mid-February at WCI's Pelican Preserve community in Fort Myers where every new home purchaser has received the device already loaded with the "MyWCi Community Connection (SM)" application.
MyWCi is believed to be the first application of its kind for a homebuilder, and WCI Communities is the first known homebuilder to provide iPads to new customers, according to President and CEO David Fry.
"This is a proprietary, custom program that we've literally created from the ground up," said Fry. "Throughout the entire process, our objective was to create a tool that would enhance and simplify the home-buying and ownership experience for our customers."
Fry added that since 16 percent of the prospects who enter the company's sales centers are referrals, one of the company's objectives is to encourage purchasers to involve their family and friends throughout the process. "We felt the portability of the device, along with the simplicity and effectiveness of the application, would encourage homebuyers to share information about their purchase and their home," Fry said. Visitors to the company's communities who are there as the result of a referral are 30 percent more likely to buy a home, he said.
"MyWCi helps us build a relationship with our new customers and reach out to prospective customers in an innovative and compelling way, since users can easily share information and photos directly from the app with their friends and family," Fry said.
Developed by a multi-disciplinary team of WCI staff and technical consultants, the program's myriad features include club event and activities calendars; access to tee times and dining reservations; electronic versions of homeowner documentation, such as contracts and HOA documents; photos, bios and direct contact links for all community and club staff; resource information for new homebuyers including electric, telephone and cable companies; and online newsletters and announcements. Monitoring of home systems from remote locations is available as an options upgrade.
"MyWCi enables each new home purchaser to connect with us at the initial phase of the homebuilding process, and allows them to become familiar with their new community, even before they close on their home and move in," Fry said.
"We selected a group of current homeowners to test the program in advance of the pilot program at Pelican Preserve," said Diana Walker, senior vice president and chief information officer at WCI. "They told us it was a great way to keep their home information and important documents organized and readily available. Even those with limited or no computer experience said it was easy to use and provided great access to community news and activities, as well as useful information on local resources."
The technical developers anticipate exponential growth in the capabilities of MyWCi, which is expected to include such features as selection of home interior upgrades, design enhancements such as granite and tile, paint colors and much more.
Since the Pelican Preserve launch, WCI Communities has introduced the iPad program and MyWCi application at three other communities with new home construction:
For more information about the MyWCi application, view an introductory user video on YouTube. Additional information is also available by calling 800-WCI-4005 toll-free or visiting www.WCICommunities.com.
WCI Communities creates amenity-rich, master-planned lifestyle communities, catering to primary, retirement and second-home buyers. The company offers traditional single and multi-family home choices with prices from the mid-$100,000s to just under $1 million. In addition to homebuilding and development, WCI generates revenues from its Prudential Florida Realty business, the second largest residential realty company in Florida; its Wells Fargo-affiliated mortgage services; insurance and title services; and its recreational amenities, as well as through land sales and joint ventures. For more information, visit www.WCICommunities.com.