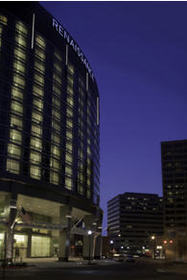 Two new exciting additions to the Crystal City skyline -- the 300-room Renaissance Arlington Capital View Hotel and the 325 all-suite Residence Inn Arlington Capital View.
ARLINGTON, VA--(Marketwire - March 10, 2011) - Two new exciting additions to the Crystal City skyline opened today -- the 300-room Renaissance Arlington Capital View Hotel and the 325 all-suite Residence Inn Arlington Capital View. Designed to be LEED® Silver certified, the duet of hotels showcase award-winning modern architecture and bring more than 250 new jobs to the community. Both properties are owned by The JBG Companies of Chevy Chase, Md. and are managed by Marriott International, Inc. For a first look at the hotels, please visit http://www.youtube.com/watch?v=uMTfavt760I.
"It has been over 20 years since Arlington's Crystal City has seen a new hotel development; and we are excited to provide many job opportunities to the area," said Jerry Caliguire, general manager, Renaissance Arlington Capital View and Residence Inn Arlington Capital View. "Both hotels have their own modern amenities with a unique style and sophistication that the Renaissance and Residence Inn guests have come to expect. We are thrilled to open our doors and look forward to serving our community and our guests."
RENAISSANCE ARLINGTON CAPITAL VIEW HOTEL:
The Renaissance Arlington Capital View is a stunning property offering a remarkable combination of luminous design and intuitive technology. From the glass encased meeting spaces with open-air terraces, to the modern sculptures and "green roof," this hotel exudes style and sophistication. The 300-room Arlington, VA luxury hotel's unique location, ultra-convenient amenities, 17,354 sq ft of event space, including a 10,000 sq. ft. unobstructed ballroom -- is designed to create an experience like no other. Looking for meeting rooms in downtown Arlington, VA? Look no further. This property is at the forefront of adaptability and service with its integration of emerging event technology, flat screen panels that control A/V, lighting and atmosphere as well as the enhanced networks for connectivity. The Renaissance Arlington Capital View will present a complete Renaissance experience designed for the modern discoverer who lives to unearth life's hidden gems: collecting new tastes, sights, sounds, and experiences and making them their own.
Each of the hotel's guest rooms incorporates a soothing color scheme with blue and platinum tones. Other amenities include plush Renaissance bedding; high-speed Internet via cable or Wi-Fi, 42-inch flat-screen high def televisions and iPod docking stations, and is complete with a personal refreshment area featuring a mini-fridge for guests to use. Business and leisure travelers both will appreciate the comfortable ergonomic executive chairs, spacious desk space, the proprietary plug-in technology panel which allows guests to connect their own cameras and laptops to the TVs and the spa-like bathrooms which feature terry cloth bathrobes and Aveda® spa products.
Both savvy travelers and locals alike will enjoy the hotel's restaurants near Reagan National Airport. SOCCi (pronounced so-chee) is an intimate, 96-seat restaurant featuring modern Italian cuisine from Executive Chef David Creamer. The restaurant and bar are both accessible from the street and include an open kitchen design, expanded pet-friendly outdoor seating area and a Chef's Tasting Room. The hotel also houses a full service Espressamente illy café with an outdoor patio, offering a variety of espresso beverages, grab and go sandwiches and light fare prepared daily.
RESIDENCE INN ARLINGTON CAPITAL VIEW:
The southern end of the complex houses the Residence Inn Arlington Capital View, which is designed to help extended stay business travelers to thrive on long stays. Featuring upscale design and style, the 325 spacious hotel suites in Arlington, VA provide guests with separate living and sleeping areas with flat-screen TV's, full kitchen with stainless steel appliances and granite countertops. The hotel's expanded lobby offers a stylish environment with a library, urban fireplace and an outdoor fire pit. Guests may enjoy free Wi-Fi, as well as complimentary daily hot breakfast, grocery delivery and evening social hour during the week.
The Arlington, VA extended stay hotel offers a total of 3,628 sq. ft. of unobstructed meeting space including a large 2,700 sq. ft. meeting room featuring built in A/V and emerging technology, perfect for small meetings and executive retreats. Residence Inn Arlington Capital View provides a unique offering to not only the business traveler and meeting planners, but also for families who seek the amenities of the Residence Inn with the option to enjoy a full-service Renaissance experience.
Both hotels share a swimming pool and 2,500 sq. ft. fitness facility featuring state of the art weight training and cardio equipment overlooking the green roof and outdoor sunspace.
The dual-branded development's footprint, location and design allows for unprecedented views of the nation's capital, the tranquil Potomac River, quaint Old Town Alexandria, the urban landscape of Crystal City and the silent motion of planes landing and trains passing by. Situated at the 28th block of South Potomac Avenue in Arlington, the hotels in Crystal City, VA are minutes from the offices of PBS, Boeing, Lockheed Martin, Northrop Grumman, and government agencies like the Pentagon and EPA. Conveniently located a ½ mile from Reagan National Airport and near the Crystal City Metro Station on the Yellow and Blue lines, the hotels provide complimentary shuttle service to and from the airport and metro station. Guests are also within minutes from national and local attractions such as the Arlington National Cemetery, The Smithsonian Institute, The Kennedy Center and the National Mall.
For more information or reservations, contact the Renaissance and Residence Inn Arlington Capital View hotels at directly at (703) 413-1300, call Marriott's Worldwide Reservations Center at (800) 228-9290, or visit the hotels' website at RenaissanceArlington.com or ResidenceInnArlingtonCapitalView.com.