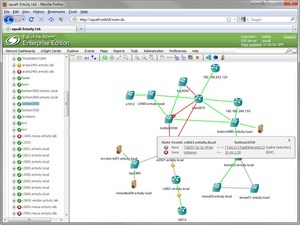 EYE 2011 is enterprise scalable for your data center.
Watch highlights of EYE 2011 data center ready functionality.
MARLBOROUGH, MA and LONDON--(Marketwire - March 10, 2011) -
News Facts
Entuity®, the leader in next-generation, value-focused, enterprise network management solutions and the global developer of its award-winning Eye of the Storm® (EYE) software portfolio announces the publication of an independent product review of their latest network management solution, EYE Enterprise 2011.
Conducted for a duration of more than one month, the independent IT analysis experts at the Institute for the Analysis of IT components (IAIT) closely examined the product paying particular attention to the newly added features of the current release.
Infrastructure for the test included a representative range found in today's data centers including routers and switches from various manufacturers, WLAN access points, servers and workstations running various operating systems, and virtual machines. Devices were placed under management using EYE's auto-discovery functionality as a basis for additional EYE functionality including inventory details, operational performance, proactive alerting, event filtering, root-cause analysis, browser-based mapping, and a complement of technical and business reporting and dashboards.
The report concludes EYE Enterprise is highly recommended for deployment in data centers or similar environments, providing a wide range of useful functions for monitoring servers and network components, for analyzing data transfer in the network, and for enforcing SLAs. EYE's mapping function, Live Status, support for virtual infrastructures, ease of installation, and Integrated Flow Analyzer warranted particular mention.
A free copy in both English and German of the full EYE Enterprise 2011 product review completed by IAIT is available for download from the Resource Center on Entuity's website.
Supporting Quotes
Quote, attributed to Dr. Götz Güttich, institute head, Institute for the Analysis of IT components
"Business applications today are particularly demanding on enterprise networks, but many companies today don't have the in-depth experience of network specialists on staff to make informed technology buying decisions. IAIT combines years of experience as an IT consultant and professional editor in the IT space to complete meaningful tests published in an easily understandable form. Organizations in the market for enterprise network management solutions like Eye of the Storm can learn not only about key product features but also how they help improve business operations particularly in the demanding field of network engineering."
Quote, attributed to Kenneth Klapproth, vice president of marketing, Entuity
"Entuity's product strategy is influenced by a broad range of feedback on the contemporary technical and business challenges faced by the market. We listen to customers, partners, prospects, and industry analysts, while also considering competitive alternatives, win/loss analysis, and overall market direction to ultimately arrive at what we feel is the most effective mix of functionality to help enterprises optimize the business value of their networks. Receiving a positive, independent assessment -- particularly from an organization that specializes in IT management solutions -- is a welcome confirmation that we are on the right track."
Multimedia Elements
About the Institute for the Analysis of IT components
The Institute for the Analysis of IT components (IAIT) creates high quality, independent testing and workshops on new products and solutions in the field of information technology which are subsequently published in neutral media. IAIT closes the gap left in recent years by staff reductions and budget cuts in trade publishers, providing manufacturers of IT products quick turn-around, expert analysis of new releases published in an objective environment. Additional information can be found on the IAIT blog at www.iait.eu or on the website www.guettich.de.
About Entuity
Entuity is the leader in next-generation, value-focused, enterprise network management and service delivery solutions at price points to match a range of business models. The Company's line of Eye of the Storm (EYE) software automatically discovers, captures, correlates, and alerts on unrivalled network data and analytics. EYE's unique InSight Center™ Perspectives explicitly relate business value to help reduce operational and capital costs, reduce network downtime, achieve sustainability goals, commit to, deliver and prove service level commitments, ensure network configuration compliance, and optimize performance of private cloud environments.
Winner of numerous industry and business awards including the Network Products Guide 2010 Product Innovation Award for Network Management, EYE has been praised for its fast deployment, ease of use, and low cost of ownership. Entuity customers include enterprises, SIs, and MSPs such as ABB, ANZ Bank, Aptina, Astra Zeneca, BMC Software, CLS Services, Columbia Sportswear, Dell Services, DIRECTV, IBM Global Services, Phones 4U, The Royal Bank of Scotland, SASSA, Sanofi-aventis, Visteon, and WorldPay. For more information on Entuity, please visit www.entuity.com or call +1.508.357.6346 (North America) or +44 (0) 20 7444 4800 (Europe).
Entuity and Eye of the Storm are registered trademarks and InSight Center is a trademark of Entuity, Ltd. All other marks and names mentioned herein may be trademarks or registered trademarks of their respective companies.
Contact Information:
Contact Information:
Kenneth Klapproth
Entuity
+1.508.357.6347