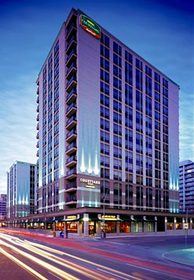 World's largest Courtyard by Marriott in Toronto, Ontario unveils its new lobby.
TORONTO--(Marketwire - March 15, 2011) - Marriott International, Inc. (NYSE: MAR) and Highgate Holdings announced that the 575-room Courtyard by Marriott located at 475 Yonge Street in Toronto, Ontario has completed a major renovation of its lobby. This Refreshing Business Lobby Concept further enhances the largest Courtyard's much-acclaimed full-service amenities including a full-service restaurant, valet parking and room service, truly making it a standout among hotels in Downtown Toronto, Ontario.
Located in the heart of downtown Toronto (at College and Yonge streets), the Courtyard by Marriott Downtown Toronto hotel near shopping in Bloor Yorkville is just steps to many business, financial and government offices and to some of the best restaurants and entertainment in North America.
"From day one, Courtyard has prided itself as a brand that listens to what travelers want from a hotel," said Janis Milham, vice president, Global Brand Manager, Courtyard by Marriott. "Guests want more control and choice with services and amenities that create a healthy balance between working and relaxing. We redefined the Courtyard lobby so it invites guests to get out of their rooms to work, socialize or for entertainment, whether traveling alone or with colleagues."
Experience the new Refreshing Business Lobby Concept at this hotel near the Eaton Centre. The design gives travelers the flexibility to work and socialize however they choose. Appreciate the fusion of high-tech, high-style with a warm and inviting atmosphere from the moment guests enter the hotel. There is flexible furniture for working, relaxing and socializing and the traditional front desk is replaced with separate Check-in-Pods to create more personal and private interactions when guests check in. This will allow staff to move about to show guests the lobby features and provide assistance.
A signature element of the new lobby is the exclusive GoBoard® technology, a 52-inch LCD touch screen packed with local information, maps, weather, and news, business and sports headlines. Guests can navigate using the touch screen to find restaurants, local attractions and directions. The Midtown Toronto hotel's lobby also boasts a high-definition television above the fireplace where guests can watch sports, movies or news.
Guests can connect to free WiFi and there are ample electrical outlets throughout the lobby to power digital devices. The enlarged business library features several complimentary computer terminals along with a free printer and separate computer stations dedicated to printing airline boarding passes and checking flight status.
The Bistro with healthy food and beverage options proudly serves Starbucks® coffee, cocktails, wine and craft beers as part of the lobby experience. High-tech conveniences include HDTV in media pods and free Wi-Fi as well as a communal table. The Bistro is offering an introductory special until the end of April with 25% off all food and beverage (non-alcohol) and Welcome Neighbour Days on April 13 & 14 offering free meals that will be promoted through e-mail, Facebook and Twitter.
The hotel has also expanded its meeting space with the addition of the Porter Room, a natural-light meeting room that can accommodate functions of up to 120 people. The hotel now has 19 meeting rooms with a total of 13,500 square feet of meeting space to accommodate 20 to 400 people for a wide variety of social and business events. Other guest facilities and services include an indoor lap pool and whirlpool spa, 24 hour fitness center, guest laundry, business center and The Market™, a 24/7 shop for snacks, beverages and sundries.
For more information, or to contact the sales department call the Courtyard by Marriott Toronto Downtown hotel directly at 416-924-0611, for reservations call the Courtyard toll-free number at 800-847-5075, contact a travel agent or visit the web site at www.courtyard.com/YYZCY.
Courtyard by Marriott offers a refreshing environment that helps guests stay connected, productive and balanced. Intuitive services and design accommodate guests' needs for choice and control. With more than 860 locations in 30 countries, Courtyard is Marriott's largest brand. All Courtyard by Marriott hotels participate in the award-winning Marriott Rewards frequent travel program that allows members to earn hotel points or airline miles for every dollar spent during each stay. For more information, including guest guided video tours of the new lobby and the latest brand information, visit www.gocourtyard.com. For reservations, go to www.courtyard.com or contact a travel professional.
Click here for Marriott International, Inc. (NYSE: MAR) company information.
For daily company news and information, visit www.MarriottNewsCenter.com.
Contact Information:
CONTACT:
Loreen Lalonde
Director Sales and Marketing
416-934-5578
llalonde@courtyardtoronto.com