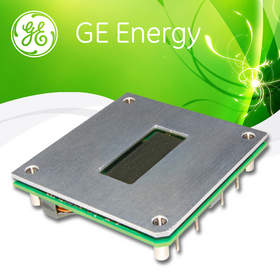 Lineage Power, a GE Energy Company, released the Orca series of DC-DC power amplifier modules.
PLANO, TX--(Marketwire - March 15, 2011) - Lineage Power, a GE Energy company, today announced availability of the Orca next-generation family of isolated DC-DC fully regulated, board-mounted power amplifier modules. The Lineage Power® Orca™ series is designed to significantly lower costs and boost energy efficiency for cellular base stations, remote radio heads, distributed antenna systems and WiMAX controllers. Orca DC-DC converters meet carriers' needs for reduced cost and improved energy efficiency, with virtually no thermal derating -- even under extreme operating temperatures.
"GE Energy is helping the global technology sector optimize energy efficiency by powering new mobile internet infrastructure designed to support cloud computing, video and other unified communications applications," said Niklas Fallgren, vice president and general manager of Lineage Power's Embedded OEM division. "The robust Orca power amplifier modules make it more cost-effective for wireless service providers to expand their 3G footprint and roll out new 4G/LTE services."
In the past 5 years, the United States has deployed a 550-fold increase in wireless bandwidth. The Orca power amplifier modules help wireless carriers and OEMs cost-effectively meet the seemingly insatiable subscriber demand for greater bandwidth to access thousands of real-time applications.
The standards-based DOSA half brick Orca converter modules provide 450 Watts of output power, with 36-75 Vin and 32 Vout or 48 Vout. As part of the Lineage Power Total Efficiency™ architecture, the new Orca achieves greater than 94% efficiency. The Orca family features Lineage Power's Tunable Loop™ technology, allowing users to optimize dynamic response -- reducing the quantity, type and size of the capacitors required for any given circuit board application. The result is a smaller overall footprint at a lower cost with increased reliability.
The new Orca power amplifiers are designed for deployment in harsh environmental conditions, with operation up to 100 degrees Celsius (212 degrees Fahrenheit) in sealed environmental conditions, resulting in higher availability and lower utility and cooling costs.
Availability
Lineage Power Orca samples are available now. Pricing starts at $39 per unit for OEM quantities. For more information please visit www.ge.com/lineagepower or call 888-LINEAGE or +1 972 244 WATT.
About Lineage Power
Lineage Power, a GE Energy company, traces our nearly 100 year heritage of innovation to Bell Labs. We deliver reliable and intelligent power conversion solutions for cloud computing and mobile internet infrastructure with energy-efficient AC-DC power supplies, DC-DC circuit board mounted power modules, telecom energy systems, DC datacenters, and custom power products backed by local field expertise in 25+ locations worldwide. Designed for decades of non-stop operation, the high-availability DC power conversion solutions enable voice, video and data communications while assuring investment protection, total system efficiency, and significantly reduced total cost of ownership. Our customers include leading U.S. telecom service providers, such as AT&T, Verizon Wireless and Verizon, and leading global OEMs, such as Alcatel-Lucent, Cisco, Ericsson, Hewlett Packard, Huawei, Juniper Networks and Oracle. More information about Lineage hardware, software, services and training is available at www.lineagepower.com.
About GE
GE (NYSE: GE) is a diversified infrastructure, finance and media company taking on the world's toughest challenges. From aircraft engines and power generation to financial services, health care solutions and television programming, GE operates in more than 100 countries and employs about 300,000 people worldwide. For more information, visit the company's website at www.ge.com.
GE serves the energy sector by developing and deploying technology that helps make efficient use of natural resources. With nearly 85,000 global employees and 2009 revenues of $40 billion, GE Energy www.ge.com/energy is one of the world's leading suppliers of power generation and energy delivery technologies. The businesses that comprise GE Energy -- GE Power & Water, GE Energy Services and GE Oil & Gas--work together to provide integrated product and service solutions in all areas of the energy industry including coal, oil, natural gas and nuclear energy; renewable resources such as water, wind, solar and biogas; and other alternative fuels.
Contact Information:
Media Contact:
Michelle Barry
BridgeView Marketing
603.570.7533
michelle@bridgeviewmarketing.com