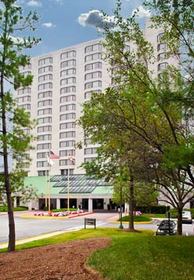 Discover Greenbelt Marriott, one of the premier hotels in Greenbelt, MD. Featuring upscale lodging near the DC Green Line Metro, our Greenbelt hotel offers 10,000 sq ft of event space perfect for your business meeting or social event.
GREENBELT, MD--(Marketwire - March 16, 2011) - With the price of gas expected to rise in the coming months, the Greenbelt Marriott has just launched a "Cars Eat Free Promotion," which enables guests to earn up to $75 in gas cards ($25 per night for up to 3 nights) when they stay at the hotel in PG County, Maryland.
"Consumers today are seeking accommodations which offer them the best value for their travel dollar," notes Bill Long, General Manager of the hotel near Redskins stadium. "Here at the Greenbelt Marriott, we want to thank guests for choosing our hotel and offer them an incentive for using our full-service property as their home base among PG County hotels. And the fact that we provide complimentary parking is an added-bonus for out-of-town travelers."
Rates for the "Cars Eat Free Promotion" range from $119 to $169 per night, include a $25 gas card for each night of stay (up to a maximum of $75), and must include a Friday or Saturday night stay. This promotion is effective from now through Memorial Day, Monday, May 30, 2011, and is exclusive of taxes. In order to book this PG County, Maryland hotel's promotion, travelers must mention promo code TRS. For additional information on this package, visit www.marriott.com/hotels/hotel-deals/wasgb-greenbelt-marriott and click on Corporate/Promotional Code.
Conveniently located off I-95 and I-495, the Greenbelt hotel is near Washington, DC; Baltimore, MD; and within one mile of the Metro subway system. The hotel features 284 newly renovated guest rooms offering the latest in in-room technology as well as Marriott's Signature bedding, plus complimentary on-site parking, indoor and outdoor pools, a fitness center, the Silver Moon Cafe, M Blue Bar and Lounge, and a Starbucks. For additional information, call 301-441-3700 or visit www.marriottgreenbelt.com.
Marriott Hotels & Resorts is Marriott International's original and most widely distributed brand, with 500 hotels and resorts in 60 countries. Marriott continues to inspire a balanced life on the road for discerning and high-achieving business and leisure travelers, offering warm, professional service; sophisticated yet functional guest room design; lobby spaces that facilitate working, dining and socializing; restaurants and bars serving international cuisine prepared simply and from the freshest ingredients; meeting and event spaces and services that are gold standard; and expansive, 24-hour fitness facilities. All Marriott hotels participate in the award winning Marriott Rewards frequent travel program that allows members to earn hotel points or airline miles for every dollar spent during each stay. For more information visit www.meetthedriven.com, or follow us on Twitter, at www.twitter.com/marriotthotels.
The Greenbelt Marriott is a standout among PG county hotels and was awarded Marriott's "2007 Hotel of the Year." For those seeking Greenbelt meeting space, elegant PG county weddings, or upscale lodging in a hotel near the Greenbelt metro station, this hotel is ideal. Spacious hotel rooms offer the ultimate in style, innovation and ease. This centrally located hotel is convenient to NASA Goddard Flight Center, Washington Redskins Stadium and Fedex Field. Other nearby attractions are the Inner Harbor, Baltimore and Annapolis. Easily accessible from BWI Airport and Reagan National Airport, this hotel is a top spot in Prince George's County and the DC area for leisure, business meetings, social events, and weddings with newly renovated meeting space.
Visit Marriott International, Inc. (NYSE: MAR) for company information. For more information or reservations, please visit our web site at www.marriott.com, and for the latest company news, visit www.marriottnewscenter.com.
Contact Information:
Press Contact:
JC Communications, LLC
Jane Coloccia
609-737-2587
janecoloccia@gmail.com
Michele Lee
571-451-9713
mlee.jcc@gmail.com