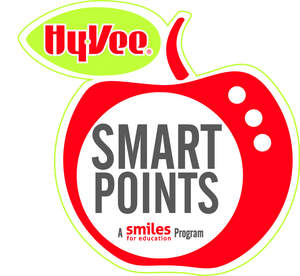 SMART Points Program Provides Educational Equipment To Schools in Hy-Vee Communities
NORTHBROOK, IL--(Marketwire - March 16, 2011) - Hy-Vee supermarkets and Procter & Gamble, in partnership with Sara Lee, have donated more than 200 SMART Board Interactive white board systems to area schools within Hy-Vee markets.
The donations are the culmination of Hy-Vee's SMART Points program -- a cause-marketing platform conceived of by Blue Chip Marketing Worldwide -- in which consumers earned points simply by purchasing $20 worth of Procter & Gamble products at any of more than 200 Hy-Vee stores. If they purchased $5 worth or more of Sara Lee bakery items in the same transaction then their points were doubled. These points were then donated to the school of the consumers' choice.
The schools with the most points per student were awarded a SMART Board system, valued at approximately $1,500 each. In addition, the consumers who donated the most points to a winning school received a MacBook laptop computer for their child. There was one winning school/student for every participating Hy-Vee store.
"Hy-Vee is committed to building a brighter future for the children in the communities we serve," said Jon Wendel, Executive Vice President, Supply Chain and Marketing, for Hy-Vee. "Thanks to the SMART Points program, as well as the generosity of our partners Procter & Gamble and Sara Lee, thousands of students now have access to some of the best learning tools available."
"SMART Points is a great example of a program that benefits all parties involved," said Ryan Sullivan, Director of Retailer Marketing at Blue Chip Marketing Worldwide. "When retailers are able to implement campaigns that add value for their shoppers and their manufacturers, and at the same time benefit the community as a whole, everyone wins."
The SMART Points program ran from September 1 to November 30, 2010, and delivery of the SMART Boards and MacBooks to the winners was completed in February. More than 3,000 schools participated in the program, nearly 16,000 sets of points were donated to schools, and ads for SMART Points on Facebook received more than 23 million impressions.
Promotional elements for the SMART Points campaign included the following:
In-store point of sale material
School awareness kits (consisting of posters and templates for letters explaining the promotion to parents)
CDs with digital assets for schools to add to their websites, email letters, Facebook pages, etc.
Postings on Hy-Vee's Facebook page
A custom microsite that tracked in real time when points were added to increase consumer interaction and engagement
Email blasts to the SMART Points website database
Full-Page Hy-Vee Circular Ads
Feature placement on Hy-Vee.com
:10 second tag on Hy-Vee TV Hot Deals spots
Blue Chip Marketing Worldwide, a full-serve marketing agency headquartered in Northbrook, IL, developed and managed the campaign and also created many of the promotional elements.
About Hy-Vee
Hy-Vee, Inc. is an employee-owned corporation operating 230 retail stores in eight Midwestern states. For 2009 the company recorded total sales of $6.4 billion, ranking it among the top 30 supermarket chains and the top 50 private companies in the United States. Visit the company's website at www.hy-vee.com.
About Blue Chip Marketing Worldwide
Founded in 1982 in Northbrook, Illinois, Blue Chip Marketing Worldwide (www.bluechipmarketingworldwide.com) is an independent, full-service global marketing agency that unites brands to sales to deliver unparalleled results. Through 360° insights, proprietary models and detailed execution, BCMW delivers core marketing capabilities for the retail, healthcare and branding sectors. Clients include Procter & Gamble, Gorton's, Weight Watchers, Blue Bunny, Fisher, On-Cor, Biosante Pharmaceuticals, InVentive Healthcare and Alva Amco, among others.