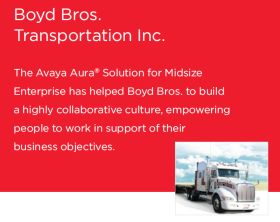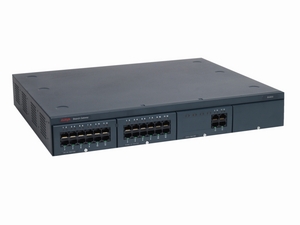 New flexible, Avaya B5800 Gateway extends collaboration and unified communications capabilities to employees in any enterprise location and supports three different configurations for centralized, distributed and hybrid environments
BASKING RIDGE, NJ--(Marketwire - March 16, 2011) - Avaya, a global leader in business collaboration systems, software and services, today announced that employees in enterprise locations of all sizes can easily collaborate via voice, video and data with new Avaya Aura® branch and midsize enterprise solutions. The new and enhanced Avaya unified communications products offer greater flexibility to enable spontaneous, multi-modal collaboration among any group of employees -- including branch, remote and mobile workers -- with more value, greater simplicity and dramatically low total cost of ownership.
With today's announcement, Avaya further delivers communications technologies that conquer the challenges of enabling highly productive collaboration among employees in any location of any size business. The new Avaya Aura Branch solution, Avaya Aura Solution for Midsize Enterprise and conferencing endpoints simplify and enrich person-to-person or group interactions across teams regardless of location to accelerate business outcomes and improve customer service. These highly flexible, easy to install, manage and administer solutions are also backed by Avaya's Software Investment Protection Policy, making it even more cost-effective for customers to upgrade to advanced communications and collaboration tools.
The Avaya Aura Branch portfolio expands with a new, flexible gateway for small to midsize branches that adapts current infrastructures (H.323, PRI, etc.) to support a SIP core infrastructure on a single platform. Scalable to over 350 users per branch, the Avaya B5800 Branch Gateway offers a range of basic to advanced options and supports:
Centralized environments with applications extended from and managed at the Avaya Aura core with enhanced survivability in the branch.
Distributed environments with applications and call control delivered locally while centrally managed; for example, those typically found in real-estate or franchised business.
Mixed environments with both localized and centralized applications; for example, a local auto attendant application to provide directions, multiple languages and sales announcements while centralized applications enable video, collaboration and mobility.
The Avaya Aura Solution for Midsize Enterprise brings Avaya Aura applications onto a single virtualized server for easy installation and management, reduced TCO and energy efficiency for companies with 250 to 1000 users. The updated Avaya Aura Solution for Midsize Enterprise 6.1 now offers:
Avaya Aura Session Manager for management of all SIP endpoints
Avaya Aura Presence to share rich presence information between endpoints from Avaya and other third-party vendors
Avaya Aura Session Border Controller
An expanded platform for advanced collaboration, such as with the Avaya Flare™ Experience on the Avaya Desktop Video Device and Avaya Video Conferencing Solutions
New Avaya Conferencing phones -- added to Avaya's Unified Communications portfolio following the acquisition of Konftel earlier this year -- include three new options for enterprise customers that deliver high-performance, rich features and simplicity at a highly cost-effective price.
General availability: The Avaya B5800 Branch Gateway is globally available this month; Avaya Aura Solution for Midsize Enterprise 6.1 will be globally available in April. Conferencing endpoints will be generally available in April and May.
The Avaya Software Investment Protection Policy provides Avaya customers with existing unified communications and contact center licenses who are upgrading to Avaya Aura solutions -- including the new Branch and Midsize Enterprise solutions -- with entitlements to cost-savings in two ways: Under existing software subscription contracts, customers can upgrade to current, like-for-like licenses at no charge; and, customers without subscription contracts can save between 25 and 80 percent on standard Avaya Aura upgrade pricing.
Quotes
Boyd Brothers Transportation, Elaine Maund, vice president, Information Systems:
"Each of our customers is assigned a dedicated team of employees and it's absolutely critical we maintain consistency in those teams for the best customer experience. These employees may be located anywhere, but need to work as if they're in the same building. With the Avaya Aura Solution for Midsize Enterprise, we can use video to address teams, support mobile, remote and home-based workers and more. It's changing how we look at our business now that we're seeing all that we can do and do differently."
Xeta, Marty Lucas, National Sales Director:
"While today's business environment moves toward decentralization to get closer to their customers, an organization's satellite offices are expected to be autonomous yet have access to home office feature sets to improve customer service and stay connected with their extended employees. Avaya's B5800 Branch Gateway enables XETA's large enterprise customers to effectively extend enterprise-grade communications to their outlying branch offices in a robust and flexible manner. As a trusted advisor to our clients, we strive to bring advanced technologies and solutions to our customers and the B5800 gateway provides our customers the best in communications technology combining functionality and cost savings."
IDC, Rich Costello, senior research analyst, Enterprise Communications Infrastructure:
"There's real market opportunity to provide midsize enterprises with functional, less complex, and easier to manage UC solutions. Likewise, branch office environments require flexible configuration options and things like local PBX and collaboration features for end users, along with access to centralized UC applications. The new Avaya Aura Solution for Midsize Enterprise and Avaya Aura Branch solution address their targeted segments appropriately, nicely leveraging Avaya Aura communications features and functionality with effective pricing options for smaller locations."
Additional Resources:
Avaya Aura
Avaya Enterprise Gateways
Avaya B5800 Branch Gateway Fact Sheet
Avaya Data Solutions
Boyd Brothers Case Study http://www.avaya.com/usa/resource/assets/casestudies/UC4728AV.pdf
Downloadable photos http://www.flickr.com/photos/avaya/sets/72157626147016873
Tags: Avaya, Avaya Aura, unified communications, collaboration, midsize enterprise, enterprise, gateways
About Avaya
Avaya is a global leader in enterprise communications systems. The company provides unified communications, contact centers, data solutions, and related services directly and through its channel partners to leading businesses and organizations around the world. Enterprises of all sizes depend on Avaya for state-of-the-art communications that improve efficiency, collaboration, customer service and competitiveness. For more information please visit www.avaya.com.
Certain statements contained in this press release are forward-looking statements. These statements may be identified by the use of forward-looking terminology such as "anticipate," "believe," "continue," "could," "estimate," "expect," "intend," "may," "might," "plan," "potential," "predict," "should" or "will" or other similar terminology. We have based these forward-looking statements on our current expectations, assumptions, estimates and projections. While we believe these expectations, assumptions, estimates and projections are reasonable, such forward looking statements are only predictions and involve known and unknown risks and uncertainties, many of which are beyond our control. These and other important factors may cause our actual results, performance or achievements to differ materially from any future results, performance or achievements expressed or implied by these forward-looking statements. For a list and description of such risks and uncertainties, please refer to Avaya's filings with the SEC that are available at www.sec.gov. Avaya disclaims any intention or obligation to update or revise any forward-looking statements, whether as a result of new information, future events or otherwise.
Contact Information:
Media Inquiries
Deb Kline
908-953-6179
klined@avaya.com