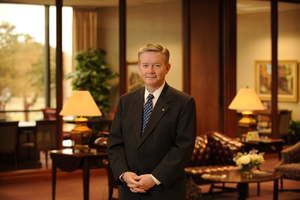 Mike Shipman, President, Chairman and CEO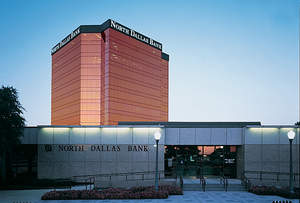 North Dallas Bank & Trust Co., Corporate Headquarters, 12900 Preston Road, Dallas, Texas
DALLAS, TX--(Marketwire - March 16, 2011) - North Dallas Bank and Trust (OTCBB: NODB), a time-honored symbol of responsible financial stability for the local region, celebrates its 50th anniversary this month by spotlighting its base as the oldest bank originally established in Dallas, Texas.
The bank was chartered in March 1961 and today has five locations, all in the growing Dallas area, with room to grow for the future.
"The reason we have been able to prosper this long is our values, which were established at the beginning," said North Dallas Bank Chairman, President and CEO Mike Shipman. "Our core values have always been responsible banking. Doing things right along with doing the right thing."
While the bank will highlight the financial milestone with a celebration this month, they will also mark the occasion with the resolve to continue to grow in its unique banking niche.
"It's a time of celebration and perhaps satisfaction for the moment, but then the next day press on remembering the last 50 years and seeking the next 50," Shipman said.
Today, North Dallas Bank and Trust, which had $1 million the first year, has assets of more than $1.1 billion in five banking centers in Dallas, Plano, Las Colinas, Frisco and Addison. In a 1960s listing of the top 50 banks in Dallas County, North Dallas Bank is only one of two, which are still in operation today under the same charter. The other bank will celebrate their 50th anniversary in just a few more years.
In 50 years, North Dallas Bank has never lost a cent in its yearly earnings and is the only local bank to earn the coveted Bauer Financial 5-Star Superior rating continuously for the last 20 years. The 5-Star Superior rating is the highest rating that a bank can earn in regards to safety and soundness.
North Dallas Bank has sustained and prospered by focusing on four fundamental constituents vital to its local success.
"We try to maintain the mindset of helping four different sets of people. Our customers, our communities, our shareholders and our employees," said Shipman, a Lubbock native, who first came to work at North Dallas Bank in 1996.
"Our number one goal is to take care of our customers in a financially responsible way," said Shipman. "Our customers are independent people who own their own businesses. They expect and deserve excellent customer service. We bank professionals, doctors, lawyers, engineers, entrepreneurs, families, extended families and their employees. We have a lot of people who have done well in life and well in business. We like to think that in a small way we helped them get there too."
"We think Dallas is poised for great things," said Shipman. "At North Dallas Bank, we do what we've always done for 50 years, same as always. We focus on the safe and sound fundamentals of banking, and we do it extremely well."
North Dallas Bank & Trust Co., established in 1961, has more than $1 billion in assets and is a locally owned bank with five locations in the Dallas area.