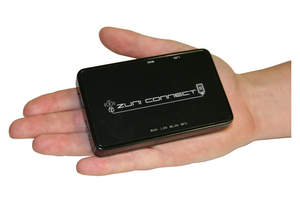 New ZuniConnect Travel(TM) Delivers Secure Wireless Network and SmartPower Charging in a Single Device
MONROVIA, CA--(Marketwire - March 16, 2011) - ZuniDigital, Inc., a provider of wireless network and smart power solutions, today announced ZuniConnect Travel™. ZuniConnect Travel simplifies access for consumers' wireless and charging needs by combining a portable wireless network router, incorporating patent-pending Intelli+IP sensing technology with SmartCharging capability. ZuniConnect Travel creates a secure wireless network from a wired or wireless internet connection, and using two USB charging ports, simultaneously charges multiple portable electronic devices such as smartphones, tablets, MP3 players and portable gaming systems.
"Travelers carrying multiple portable electronics are faced with limited options for a single, compact device addressing secure, multi-device wireless access as well as power charging," states Francis Sideco, principal analyst, wireless communications for IHS iSuppli. "In some parts of the world, 3G roaming costs are prohibitive and the only data connectivity available to the consumer is either a shared, public WiFi Access Point or a fixed Ethernet connection -- neither of which is ideal for smartphones and tablets."
ZuniDigital's introduction of ZuniConnect Travel will help expand networking connectivity and simplify options for business and personal travel.
ZuniConnect Travel Product Features:
Intelli+IP Sensing Technology - Patent-pending Intelli+IP sensing technology detects the main network IP address and identifies any network conflict, automatically changing the router's IP address to resolve the conflict.

SmartPower USB Charging/QuickCharge Ports - Two USB 5-volt charging ports. Patent-pending SmartPower technology simultaneously charges two portable electronic devices without interrupting power to the wireless router. One of these is a QuickCharge port providing increased power for faster charging of devices.

Secure Network Connectivity - 802.11N wireless technology offers data transfer rates up to 150 Mbps. Supports 64-bit and 128-bit wireless data encryption WPA/WPA2/WEP with dual-active firewalls.

Wireless ISP Router Mode - Creates a new, personal network from an existing wireless broadband connection.

Wireless Extender Mode - Extends the range of an existing wireless connection.

Compact Size - Travel-sized portability (size: 3.86" x 2.37" x 0.65" - weight: 2.2 oz.). Custom travel case included.
Mark Engler, president of ZuniDigital, Inc., states, "Consumers have asked for a single product giving them the most secure portable wireless router capability combined with a convenient option for integrating SmartPower charging. We wanted to help bridge the gap between wired Ethernet and today's smart devices, streamlining the social, entertainment and mobile communication experience for those traveling outside their network."
Pricing and Availability:
ZuniConnect Travel; MSRP of $59.95. ZuniConnect Travel Wireless ISP; MSRP of $72.95. Available now at www.zunidigital.com and www.amazon.com. More information can be found by accessing the media room at http://www.zunidigital.com/aboutus/images.php. Follow ZuniDigital on Twitter: @zunidigital.
About ZuniDigital, Inc.
ZuniDigital, Inc. was founded in 2008 and is a provider of wireless network and smart power solutions. ZuniDigital's latest product, ZuniConnect Travel™, is a secure wireless router and charging device simplifying access for consumers' wireless and charging needs. The ZuniConnect Travel combines a portable wireless network router with patent-pending Intelli+IP sensing technology and SmartCharging. The ZuniConnect™ line utilizes intellectual property to bring unique products to the market simplifying wireless connections. The ZuniDigital SmartSurge product suite addresses green power conservation and surge protection, utilizing patent-pending SmartSurge technology. The Company markets its products under the ZuniDigital and ZuniConnect brand names and is available in North America and Asia. ZuniDigital, Inc. is a privately held company with headquarters in Monrovia, California. More information can be found at www.zunidigital.com.
Contact Information:
Media Contact:
Courtly Stevens

415-640-0188