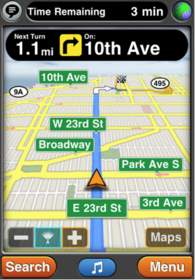 MotionX-GPS(TM) Drive - the best selling iPhone navigation app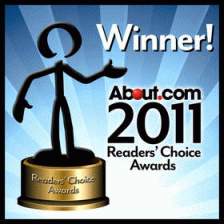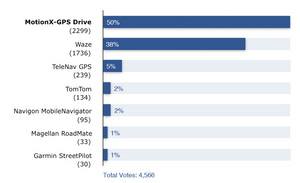 MotionX-GPS(TM) Drive, About.com Readers' Choice Award Best Auto Navigation App Winner
SANTA CRUZ, CA--(Marketwire - March 16, 2011) - Fullpower-MotionX today announced that MotionX-GPS Drive has won the navigation category for the About.com 2011 Readers' Choice Awards. Now in its fourth year, the About.com Readers' Choice Awards honor the best products, features and services across many product categories.
"We at Fullpower-MotionX are thankful to our users for making the MotionX-GPS Drive choice in a very competitive field," said Philippe Kahn, founder and CEO of Fullpower-MotionX. "The About.com Readers' Choice win is thrilling for us and is a testament to the team's passion for our customers and their iPhone experience."
In the "Best Smartphone GPS App, Auto Navigation" category, MotionX-GPS Drive was the hands-down winner. About.com states, "MotionX-GPS Drive is a turn-by-turn navigation powerhouse, and our readers have confirmed it is their choice."
Fullpower-MotionX applications are built specifically for the iOS platform, which allows the development team to quickly focus on the best solutions for the iPhone and the iPad. Innovation and rapid updates are why more than 10 million iOS enthusiasts use MotionX applications worldwide.
About Fullpower-MotionX
The Fullpower MotionX technology platform powers the leading mobile sensing, location and navigation solutions with over 10 million Smartphone customers. Fullpower-MotionX solutions are designed and developed in Santa Cruz, California. Partners include market leaders such as Apple, Nike, Jawbone, JVC, Pioneer and Texas Instruments. Visit http://drive.motionx.com for more details.
Important Links:
MotionX-GPS Drive in the iTunes Store:
http://itunes.apple.com/us/app/motionx-gps-drive/id328095974?mt=8
MotionX on Facebook: http://www.facebook.com/MotionX
Contact Information:
Contact:
Tami Casey
Kulesa Faul for Fullpower/MotionX
650.340.1984