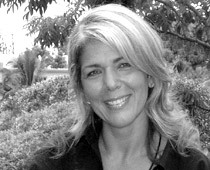 Antoinette Zel, worldwide President of La Comunidad
MIAMI, FL--(Marketwire - April 4, 2011) - Perry Ellis International announces the appointment of La Comunidad, a global independent advertising agency, as its new full-service agency of record for Original Penguin by Munsingwear after a review amongst other leading competitive digital agencies.
La Comunidad's expertise will extend to key areas of Original Penguin's business including retail, social media, print, e-mail marketing as well as in-store events and is expected to launch in the early summer.
"La Comunidad is the ideal creative agency to take the Original Penguin by Munsingwear brand to the digital stage and help us grow as a major player within the social media space," said Oscar Feldenkreis, President and Chief Operating Officer of Perry Ellis International. "Expanding digitally is a key priority for us and our partnership with La Comu is going to help us take the brand to the next level of engagement with our consumers and fans across new platforms."
"It's rewarding to be recognized more and more as an idea agency that transcends platform limitations," added Antoinette Zel, worldwide President of La Comunidad. "The fresh campaign concept we presented to Original Penguin was naturally aligned to their digital strategic goals and our work with them continues La Comu's evolution as we broaden our capabilities to extend into all markets and all platforms."
The campaign will focus on the brand's true American classic heritage, bringing to life the brand's fun, playful attitude and distinct point of view. Staying true to the timeless appeal of Original Penguin's classic designs, the campaign re-masters the landmark brand for today's digital age.
About La Comunidad:
La Comunidad believes in the power of connecting people and ideas. The idea of community empowers people and inspires collaboration to stimulate relationships with brands.
Founded in 2001, La Comunidad (The Community) is a global, independent agency known for innovative communication for multi-national brands. La Comunidad has five offices -- two in Miami, two in Buenos Aires and one in New York. Within its first two years, La Comunidad was ranked the 13th most-awarded agency in the world.
La Comunidad's clients include Coca-Cola, Corona Extra, Corona Light, Disney, Modelo Especial, MTV, Remy Martin Cointreau, Rolling Stone, Sony Electronics, Stride, Trident, Kraft, Apple, VH1 and Volvo among others.
About Original Penguin:
In 1955, Minneapolis-based Munsingwear -- an underwear and military supply company -- ironically became the touchstone of suburban sport with the introduction of the first iconic golf shirt to America -- an ORIGINAL PENGUIN®. Original Penguin by Munsingwear has grown into a complete lifestyle brand creating classic sportswear apparel and accessory collections for men, women and boys who love great style and smart clothing. Currently, Original Penguin has 10 brick-and-mortar locations across the United States and an additional 22 internationally. Visit www.OriginalPenguin.com.
About Perry Ellis International
Perry Ellis International, Inc. is a leading designer, distributor and licensor of a broad line of high quality men's and women's apparel, accessories and fragrances. The Company's collection of dress and casual shirts, golf sportswear, sweaters, dress pants, casual pants and shorts, jeans wear, active wear and men's and women's swimwear is available through all major levels of retail distribution. The Company, through its wholly owned subsidiaries, owns a portfolio of nationally and internationally recognized brands, including: Perry Ellis®, Jantzen®, Laundry by Shelli Segal®, C&C California®, Cubavera®, Centro®, Solero®, Munsingwear®, Savane®, Original Penguin® by Munsingwear®, Grand Slam®, Natural Issue®, Pro Player®, Havanera Co.®, Axis®, Tricots St. Raphael®, Gotcha®, Girl Star®, MCD®, John Henry®, Mondo di Marco®, Redsand®, Manhattan®, Axist®, Farah® and Rafaella®. The Company enhances its roster of brands by licensing trademarks from third parties, including: Pierre Cardin® for men's sportswear, Nike® and Jag® for swimwear, and Callaway®, TOP-FLITE®, PGA TOUR® and Champions Tour® for golf apparel. Additional information on the Company is available at http://www.pery.com.