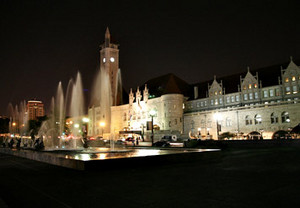 St. Louis Luxury Hotel's Spring Packages Have Sprung
ST. LOUIS, MO--(Marketwire - April 5, 2011) - It's time to spring into some family fun and with new savings packages at one of St. Louis' finest hotels near Busch Stadium, Cardinal Baseball fans and Family Attraction card holders will have added reasons for celebrating when staying at the St. Louis Union Station Marriott.
Baseball Ticket Stub Equals Savings with Hotel's New Baseball Package*
The 2011 baseball season is underway and Cardinal fans will appreciate this package, which allows for discounted rates and added amenities when presenting a Cardinals ticket stub. Just by presenting a ticket stub at check-in, guests at the remarkable Union Station Marriot, an exceptional choice among St. Louis luxury hotels, will receive $15 off the best available rate, complimentary hotel valet parking and discounted beverages at the hotel's magnificent Grand Hall or Station Grille Lounge. The Union Station Marriott is located at a Metro Link stop, so fans can easily save on stadium parking by accessing Busch Stadium via the Metro. With added savings and hassle-free parking, baseball fans can enjoy a relaxed trip to the city for Cardinal baseball fun.
Family Attractions Card Nets Hotel Savings
St. Louis Family Attraction Card Holders can also receive discounted rates when presenting their Family Attraction Card when checking-in to the Union Station Marriott, one of the most sophisticated luxury hotels near the Gateway Arch. In addition, guests will receive complimentary valet parking at the Market Street entrance for one car per package per night, a $24 value.
Union Station provides an exciting atmosphere for family fun and convenient access to many popular attractions including the St. Louis Zoo, Grant's Farm and the Gateway Arch. While surrounded by the architectural beauty of a bygone era, all rooms include modern amenities such as high-speed wired and wireless Internet access, LCD TVs with cable/satellite service, premium movie channels and the Marriott's luxurious bedding ensembles to ensure a good night's rest.
*Guests must present Cardinals Baseball ticket stub or St. Louis Family Attraction Card at check-in to qualify for package rate and when ordering discounted beverages. The discounted rate is available only for a maximum of two rooms per ticket stub. Rate will change to best available published rate at time of check-in if not presented and valet parking will be at full cost.
About the St. Louis Union Station Marriott
The St. Louis Union Station Marriott is located within the magnificently restored Union Station National Landmark in downtown St. Louis and lends guests a look back into the era when rail transportation was foremost for the bustling Gateway to the West. Assorted mall shops, specialty stores, restaurants and museum interests are also located throughout Union Station, providing a variety of fun and excitement for everyone in the family.
Visit Marriott International, Inc. (NYSE: MAR) for company information.
Contact Information:
CONTACT:
Carrie Sheridan
St. Louis Union Station Marriott
314.802.3445
Carrie.sheridan@marriott.com