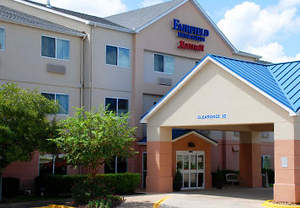 Discover a refreshing alternative to typical hotels near the Houston Energy Corridor at Fairfield Inn & Suites by Marriott. Our Houston Energy Corridor hotel offer free internet access & free deluxe breakfast each day!
HOUSTON, TX--(Marketwire - April 5, 2011) - Thousands will converge on Houston May 2-5 for the annual Offshore Technology Conference and business hotels in West Houston are preparing for the influx by offering meticulous accommodations and exceptional service. More than 50,000 people from across the world will make their way to Houston's Reliant Center for this remarkable event which focuses on the development of offshore resources in the fields of drilling, exploration, production and environmental protection.
OTC Conference attendees seeking superior value and gracious comforts while staying in one of the finest hotels near the Houston Energy Corridor will find the Fairfield Inn & Suites Houston I-10 West/Energy Corridor an excellent choice. This newly renovated hotel property offers updated and spacious guest rooms and hotel suites in West Houston, an inviting lobby, business center and complimentary wireless high-speed Internet access at affordable rates.
Guests at the Fairfield Inn & Suites I-10 West hotel will find themselves centrally located to popular destinations, including the West Houston airport. An extensive complimentary breakfast buffet, Spring Air mattresses topped with luxurious bedding ensembles from the Marriott's Linen Collection, 32-inch LCD televisions, cable/satellite service and large, well-lit work desks make travelers feel at home. Guests will also have access to on-site amenities including a refreshing indoor pool, the hotel's fitness room with state-of-the-art equipment and a 24-hour Market for last minute convenience snacks and necessities. A complimentary deluxe continental breakfast is also served daily to help guests jump start their day.
About the Fairfield Inn & Suites Houston I-10 West/Energy Corridor Hotel
The Fairfield Inn & Suites Houston I-10 West/Energy Corridor Hotel provides travelers with exceptional value, a relaxed and refreshing environment, meticulous guest rooms and friendly service to enhance their Houston travel experience. Whether traveling for business or leisure, guests will appreciate the hotel's easy access to local destinations including family entertainment, popular eateries and exceptional shopping. Offering complimentary on-site parking and a smoke-free environment, this Fairfield Inn & Suites hotel near I-10 West and West Houston airport pampers its guests with outstanding value and customer satisfaction.
About the Offshore Technology Conference
Organized and operated exclusively to promote and further the advance of scientific and technical knowledge of offshore resources and environmental matters, industry organizations and support groups have been presenting the OTC event annually since 1969. With more than 2,000 companies participating in the exhibition, this spectacular event typically draws global attendees from more than 110 countries.
Visit Marriott International, Inc. (NYSE: MAR) for company information.
Contact Information:
CONTACT:
Melbvee Bullard
Phone: (281) 646 0056
Email: ffi.houfw.gm@marriott.com