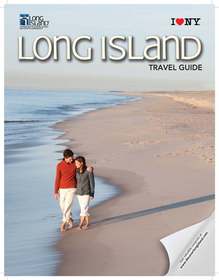 Request a travel guide to discover the many things to do on Long Island.
HAUPPAUGE, NY--(Marketwire - April 6, 2011) - The Long Island Convention and Visitors Bureau has released its 2011 Long Island Travel Guide filled with information on things to see and do on Long Island, including detailed maps, event listings and transportation information.
Visitors can request the guide on the newly-launched Long Island website at www.discoverlongisland.com. The site also features great coupons and brochures, an easy-to-use interactive map and discounts on getaway packages, including a number of themed packages.
Popular things to do on Long Island include a top-rated water park, wildlife game preserve, a world-class aquarium and the Gold Coast mansions -- a step back in time to the 1920s when society's elite built lavish, castle-like mansions and gardens of European caliber. Nearly a dozen estates are currently open for public use. Today, this affluence lives on in the prestigious Hamptons area, where celebrity sightings, gourmet dining and upscale shopping are common.
The most-visited historic sites on the island include the 'summer Whitehouse' of President Theodore Roosevelt and the home where Walt Whitman grew up. Visitors can examine Long Island's historic role in the Revolutionary War, aviation, maritime and whaling or visit famous film sites, lighthouses, and windmills. Long Island's Suffolk County features a thriving art and culture scene rife with galleries, theaters and museums.
Outdoor recreation is popular on Long Island as well, and some of the finest golf courses in America are found on the island, including Bethpage Black, site of the 2002 and 2009 U.S. Open. Long Island's Belmont Park is also the site of the Belmont Stakes, the final race in the prestigious Triple Crown of Thoroughbred Racing. Long Island beaches are consistently rated among the finest in America, with regular appearances in the annual "America's Top Ten Best Beaches" list by Dr. Stephen Leatherman, aka "Dr. Beach."
Accessible through three major airports, including LaGuardia, JFK International and Long Island Islip MacArthur, it's easier than you think to plan a visit. Order a free Long Island, NY travel guide today.