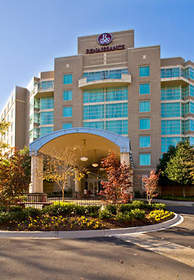 Get away to one of the premier luxury hotels in Charlotte, NC -- The Renaissance Charlotte SouthPark. With lavish accommodations, distinctive amenities and exceptional service, our Charlotte, NC luxury hotel is the ultimate retreat.
CHARLOTTE, NC--(Marketwire - April 7, 2011) - Whether you are a hotel guest or a local resident and you would like to learn more about wine, the Renaissance Charlotte SouthPark Hotel offers a resident "Wine Navigator" in house every Tuesday from 3:30 to 6:30 p.m. to pour samples and showcase the latest offerings in the boutique wine category.
According to Jason Gensch, Restaurant Manager at the boutique hotel in Charlotte, NC, "Boutique wines are from smaller vineyards that are not as well known, but often produce some pretty amazing wines. In our quest to give guests new things to savor at our restaurants near SouthPark Charlotte, we bring in Matt Cooper of Dionysus, our local wine expert, who functions as our Wine Navigator to pour tastings of handcrafted wines from small wineries all over the world."
On a typical Tuesday afternoon, Mr. Gensch says the Wine Navigator may be serving wines from Spain, Italy, and the U.S. Mr. Cooper is in residence in the lobby every Tuesday afternoon, and guests and local Charlotte residents are invited to come enjoy a free tasting of the Boutique Wines -- which vary from week to week. These wines are available by the glass or by the bottle in both Flagstones Restaurant and The Bar at Flagstones for those dining in Charlotte, NC.
"At the end of the day, after someone has concluded business in the SouthPark neighborhood or a guest has arrived at the hotel following a trip in from out of town, it is a nice touch for us to be able to provide them with a sampling of something new and wonderful to experience," adds Mr. Gensch.
The Renaissance SouthPark Hotel is a savvy, contemporary, and inviting hotel that has just completed a multi-million dollar renovation. The property is located in the affluent SouthPark neighborhood, just a few minutes south of uptown Charlotte, North Carolina. The hotel has 264 guest rooms, an indoor pool, fitness center, and offers Flagstones Restaurant and The Bar at Flagstones restaurants near SouthPark Charlotte.
For those traveling for business, the luxury Charlotte hotel's meeting facilities include state-of-the-art spaces for large conferences and intimate board meetings -- all coordinated with exceptional attention to detail. The Renaissance Charlotte SouthPark Hotel graciously accommodates wedding receptions of all sizes and offers gourmet catering services for any business or social event. The hotel regularly offers Charlotte shopping packages and hotel deals. For additional information, visit www.RenaissanceCharlotteSouthPark.com.
RENAISSANCE HOTELS is an upscale brand with more than 145 properties in 32 countries that speaks to passionate travelers in search of authentic local discoveries when traveling for business or leisure. Renaissance Hotels has recently welcomed several new "gems" to its global collection -- the boutique Renaissance Malmo hotel in Sweden, the historic Stanford Court hotel in San Francisco, the exotic Renaissance Curacao Resort & Casino in the Dutch Caribbean, the opulent Renaissance Bangkok Ratchaprasong Hotel and the modern Renaissance Beijing Capital Hotel. These hotels join a rich portfolio defined by distinctive and well-known icons such as the Eden Roc Renaissance Miami Beach, La Concha Renaissance San Juan, Renaissance New York Hotel 57 and Renaissance Paris Arc de Triomphe. All Renaissance hotels participate in the award winning Marriott Rewards® frequent travel program that allows members to earn hotel points or airline miles for every dollar spent during each stay.
To make reservations and for more information, visit www.RenaissanceCharlotteSouthPark.com. Follow Renaissance on Facebook at www.facebook.com/RenaissanceHotels, on Twitter at www.twitter.com/RenHotels, and via the RLife blog at www.therenaissancelife.com.
Visit Marriott International, Inc. (NYSE: MAR) for company information.
Contact Information:
Press Contact:
JC Communications, LLC
Jane Coloccia
609-737-2587
janecoloccia@gmail.com

Michele Lee
571-451-9713
mlee.jcc@gmail.com