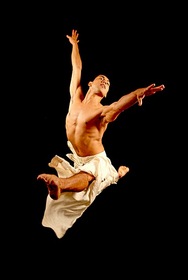 Dancer Cesar G. Salinas of Giordano Jazz Dance Chicago will perform at Florida Dance Festival along with other professional contemporary dancers from around the country, June 14-25, at the University of South Florida School of Theatre and Dance in Tampa. Photo Credit: Pedro Brenner
TAMPA, FL--(Marketwire - April 7, 2011) - Florida Dance Association returns to Tampa with Florida Dance Festival, June 14-25, at the University of South Florida School of Theatre and Dance.
Top contemporary professional dancers and choreographers from major cities throughout the country will present and teach at Florida Dance Festival's 10-day intensive training workshop that attracts serious dance students with professional aspirations from across the state, as well as the southeastern United States and Caribbean.
"Tampa is the perfect location for Florida Dance Festival because it creates a sense of community that unites a diverse group of choreographers, performers, teachers and students for an intense study and exchange in a noncompetitive environment," says Bill Doolin, director of Florida Dance Association, the nonprofit organization established to support the development of dance in Florida. "The festival also exposes local audiences to cutting edge contemporary dance from around the globe through our performance series."
The Florida Dance Festival performance series is open to the public and will feature New York-based Jane Comfort and Company performing "Faith Healing," a deconstruction of Tennessee Williams' play, "The Glass Menagerie" (June 18); the original jazz dance company, Giordano Jazz Dance Chicago, founded by legendary jazz dancer and choreographer, the late Gus Giordano (June 24); and an evening of disability dancing with Atlanta-based Full Radius Dance and Miami-based choreographer, Heather Maloney who will present "Excerpts from Vertical Sprawl," exploring the consequence of the human urge to reach for excess and control (June 15).
The performance series will also include festival favorites: Florida Dances, an eclectic dance collection from members of Florida Dance Association and first look at new performances (June 20); Faculty Concert, featuring performances from choreographers Jennifer Archibald, Jack Clark, Karl Rogers, Autumn Eckman and local dance professional Courtney Smith (June 22); and Festival Finale, the high-energy student showcase choreographed by professionals during the 10-day workshop (June 25).
"If you really want to add substance to your art diet, this is a tremendous opportunity to experience one-of-a-kind dance performances that will not only entertain but stimulate your mind," says Michael Foley, associate professor of dance at the University of South Florida and Florida Dance Association board member. "Florida Dance Festival is a huge asset to Tampa's dance community and helps solidify the USF Dance Program's national reputation where students want to come and learn from the best."
Tickets to performances range from $6-$20; to purchase, go to: www.floridadanceassociation.org or call 305-310-8080. Registration is open for students with a minimum of 1-2 years of dance training, but space is limited. A select number of merit scholarships are available for full or partial tuition as well as staff assistant and counselor positions. Applications for financial assistance must be received by April 15. For information about enrolling in Florida Dance Festival visit: www.floridadanceassociation.org.
Established in 1974, Florida Dance Association is Florida's statewide arts/dance service organization. The first Summer Dance Workshop, known today as Florida Dance Festival, was held in Tampa, at University of Tampa, in 1979. Florida Dance Festival is the preeminent annual dance workshop event in the southeastern United States.
Contact Information:
Media Contact:
Amy Summers
813-335-1959

Pitch Inc.