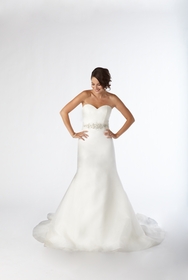 Kirstie Kelly Signature Collection of wedding dresses, exclusively at Costco. Visit www.kirstiekelly.com/signature to shop at select Costco locations.
LOS ANGELES, CA--(Marketwire - May 4, 2011) - Wedding season is here, and brides-to-be have many details to consider before their big day. Few, however, are more personal and meaningful than finding the right wedding dress. In addition to the variety of places to shop for a gown, now you can add Costco to your wedding day checklist. The Kirstie Kelly Signature bridal dress collection is available exclusively at select Costco locations with a special series of limited-run trunk shows in May.
The Kirstie Kelly Signature collection offers quality couture-inspired designer dresses starting at 40 percent off retail, and is created for the savvy Texas bride who doesn't want to choose between affordability and elegance. Brides will find an intimate and elegant fitting room, completely carpeted with full length three-way mirrors and expert bridal consultants from Kirstie Kelly's bridal team to advise on fit and style.
Since the tour's launch, brides have been delighted over the beauty of each dress, and appreciated their high quality and smart price tags. Many were also surprised at the diverse range of sizes available and that they can have their own gown within 10 days.
"It has been a pleasure to talk with so many women looking for the dress they've always envisioned in the Signature Collection at Costco," said Kirstie Kelly, designer of Kirstie Kelly Signature. "We've created a special experience for brides-to-be to find the prefect dress for their important day."
Kirstie Kelly Signature includes six styles with classic silhouettes, gorgeous fabrics and stunning embellishments. Available in sizes 2-24, the gowns beautifully complement a range of skin tones and body types. Cathedral and fingertip length veils are also available.
The next leg of the Kirstie Kelly Signature trunk show will take place at the following Costco locations:
San Antonio, TX: May 5-May 8 (5611 UTSA Blvd, San Antonio 78249)
Austin, TX: May 12-May 15 (10401 Research Blvd., Austin 78759)
Houston, TX: May 19-May 22 (3836 Richmond Ave, Houston 77027)
Southlake, TX: May 26-May 29 (2601 E. State Highway 114, Southlake 76092)
To see photos and schedule an appointment, visit www.kirstiekelly.com/signature.