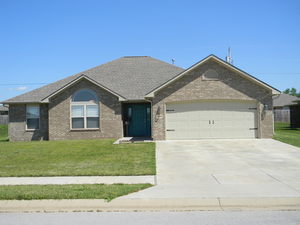 Through a bank-ordered auction on May 21 and 24, hundreds of commercial and residential properties will be offered, including lots and development land. Several properties will sell absolute with no minimums and no reserves.
GROVE, OK--(Marketwire - May 6, 2011) - At a bank-ordered event on May 24, hundreds of properties will be offered at a real estate auction in Grove, Okla. The auction, which includes bank-owned properties from five Oklahoma cities, will be conducted by J. P. King Auction Company, the nation's leading real estate auction marketing firm.
The properties include single-family homes, development properties as well as residential lots and land. Several three-bedroom homes are included in the portfolio as well as 207 acres of land in Westville and several lots in the Governor's Retreat subdivision, with some selling absolute.
Property-specific information is available on J. P. King's website, and additional listings will continue to arrive up to auction day. This will be the first of two auction events for Arvest Bank. The second auction will take place in Rogers, Ark., on May 24 and will include several commercial and residential properties as well as lots and land throughout Arkansas and Missouri.
The Oklahoma auction event will take place on Saturday, May 21 at 11 a.m. at the Governor's Retreat subdivision at 59660 East 335 Road in Grove, Okla. For additional information, individuals may contact J. P. King at 800.558.5464 or visit the company's website at www.jpking.com.
J. P. King Auction Company specializes in high-value properties and portfolios such as luxury homes, developments, condominiums, land and ranches. The company has marketed properties in all 50 states and six countries with recent sales in Virginia, Alaska, Tennessee, Oregon, Wisconsin, Alabama and Wyoming.
Keep in Touch:
Twitter
Facebook
Craig King's blog
Contact Information:
Contact:
Caley King Newberry
Cell: 256.295.3629