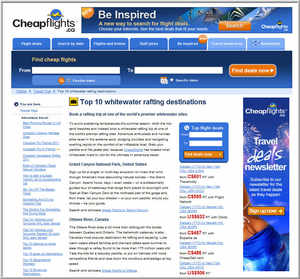 Screenshot of Cheapflights.ca's Top 10 Whitewater Rafting Destinations. To avoid sweltering temperatures this summer season, Cheapflights.ca suggests cooling off with a whitewater rafting trip at one of the world's premier rafting sites. Check out our list of rafting sites to travel to and experience the thrills and chills of this ultimate adventure sport.
TORONTO--(Marketwire - Jun 1, 2011) - Looking for the ultimate travel adventure this summer? With the temperatures warming up, Cheapflights.ca, the online leader in finding and publishing travel deals, suggests grabbing a paddle and life jacket and check out the thrills of whitewater rafting. Adventure enthusiasts and novices alike revel in this extreme sport, dodging boulders and navigating swelling rapids while perched atop an inflatable boat. Cheapflights.ca has located what whitewater rivers to visit for the ultimate in adventure travel with its list of Top 10 Whitewater Rafting Destinations featuring some of the world's premier rafting sites.
While the best time of year to go rafting varies around the world, the five sites highlighted below are popular summer spots where the whitewater rafting season is at its peak over the next few months.
If your summer holidays have already been booked, the remaining destinations to make Cheapflights.ca's list of Top 10 Whitewater Rafting Destinations offer rafting adventures at various times throughout the year. Now's your chance to plan ahead with an adrenaline adventure to one our other rafting picks: Pacuare River, Costa Rica (all year round); Futaleufu River, Chile (from late December through February); Zambezi River, Zimbabwe and Zambia (August to January); White Nile, Uganda (all year round) and North Johnstone River, Australia (April through June). To read more about these whitewater rafting gems along with the complete list, visit www.cheapflights.ca/travel-tips/top-10-whitewater-rafting-destinations/.
About Cheapflights Media
Cheapflights Media is an international media network providing users with different ways to find low cost travel. Since 1996, Cheapflights Media has been helping consumers research, compare and save on domestic and international travel. Our flagship brand, Cheapflights, is one of the largest flight deals publishers, delivering over 4 million deals daily. With brand-name deals on airline tickets from more than 300 partners and 600 airlines and a team of travel experts hand picking the best offerings, Cheapflights offers visitors a mix of deals they can't find anywhere else. There are currently Cheapflights-branded sites for the U.K., U.S., Canada, Germany, Australia & New Zealand, France, Italy and Spain. For more information, visit www.cheapflights.ca.
Contact Information:
Contact Information:

Dalia Blumenthal
Publicist
Tel: +1 416-926-1967
Mobile: +1 416-788-4573
E-mail:
Web: www.cheapflights.ca