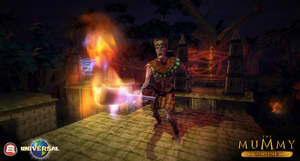 Web: Under development by Bigpoint in collaboration with Universal Partnerships & Licensing, the action-adventure title -- The Mummy Online -- will launch this fall. The company's other Unity-based titles include Battlestar Galactica Online, which has millions of players, and Universal Monsters, which will launch in 2012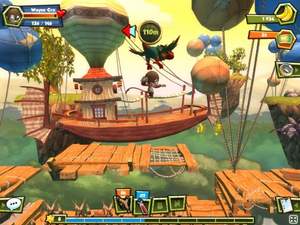 Web: Nickelodeon's Monkey Quest has millions of players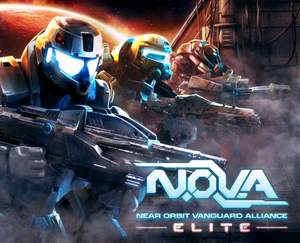 Facebook: Gameloft launched N.O.V.A. Elite on Facebook, demonstrating the ubiquity of Unity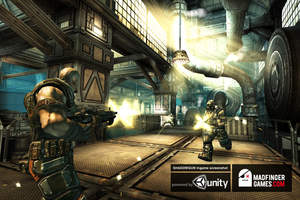 Mobile: Madfinger Games, developers of Samurai II: Vengeance, created the most advanced handheld game in the market with SHADOWGUN, optimized for superb performance and offering gamers the same quality expected from console gaming systems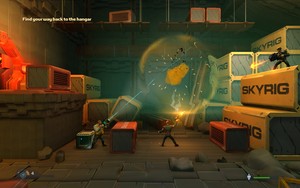 Console: Developed by Recoil Games and published by Sony Online Entertainment LLC, Rochard, the 1st Unity-powered Sony PlayStation game, is scheduled for release this year
SAN FRANCISCO, CA--(Marketwire - Jun 6, 2011) - Unity Technologies, provider of the Unity development platform for awesome games and interactive 3D on the web, iOS, Android, consoles and beyond, today celebrated Unity's sixth anniversary.
Unity, launched onstage at Apple's Worldwide Developer Conference (WWDC) in 2005, is commemorating six years of steadfast leadership and relentless innovation in democratizing game development and making it possible for everyone to create rich interactive 3D content.
"We bet on broad democratization of game development and have been aggressively coding and innovating to realize that vision," said David Helgason, CEO of Unity Technologies. "We just surpassed the 500,000 user milestone, our customers continue to amaze us with their creations, and we are expanding our team at a rapid rate. It's exciting to be both an instigator and a participant in this revolution."
A few of the things that have happened in the last 12 months:
Unity was named the #1 Game Engine by Game Developer Magazine readers, received Develop Magazine's coveted Grand Prix Award and won the prestigious Wall Street Journal Technology Innovation Award
Unity became the platform of choice for teaching students how to design and develop games
The company's registered user base surpassed 500,000 users; 150,000 of these users are active monthly users representing well over a million hours of game development every month
The free Unity browser plugin for playing web games exceeded 60 million installs
Unity and the Unity Web Player were certified by the US Army and Air Force so they can be installed on their secure networks
The third generation of Unity, with dozens of major new features, 100+ additional enhancements and up to 10x performance improvements, and support for Android were released
The company teamed with Qualcomm to bring Augmented Reality (AR) to Android
The number of Unity games in the Apple iOS App Store exceeded 1500 -- "best of" and "top selling" games include Battleheart, Gears, Samurai II, Skee-Ball and Snuggle Truck
The company rocked Game Developers Conference (GDC) in a big way and won Best of Show
The company announced a deep partnership Electronic Arts (EA)
The company launched the Unity Asset Store, a digital marketplace where developers can share and sell assets to accelerate development, and it's quickly become the #1 marketplace for Unity developers
The company introduced Union, a business unit dedicated to distributing high quality 3D games on mobile phones, tablets, set-top boxes, connected TVs and other new platforms -- Union announced a partnership with Sony Ericsson to enable rapid development and porting of Unity-based games to the new Sony Ericsson Xperia™ PLAY smartphone and a partnership with RIM to bring dozens of Unity-based games to the PlayBook
For the full list of awards and accolades, simply visit: http://unity3d.com/company/fast-facts.
About Unite 11
Unity Technologies is holding Unite 11, its fifth annual developer conference, September 28 - 30, 2011 at the Masonic Center in San Francisco. Unite 11 is an event for developers, publishers, enthusiasts and others interested in Unity to come together to learn more about the market-leading platform for creating high quality video games, training simulations, medical and architectural visualizations and other 3D interactive content -- and how to get the most out of it. Unite 11 will offer three days of learning including advanced hands-on class tutorials, technical sessions and an opportunity to attend awesome parties. For more information on Unite 11, simply visit: http://unity3d.com/unite/.
About Unity Technologies
Unity Technologies is revolutionizing the game industry with Unity, its award-winning breakthrough development platform. Unity Technologies has more than 500,000 registered users worldwide -- including Bigpoint, Cartoon Network, Coca-Cola, Disney, Electronic Arts, LEGO, Microsoft, NASA, Nickelodeon, Ubisoft, Warner Bros., large and small studios, indies, students and hobbyists -- all using Unity to create games and interactive 3D, like training simulations and medical and architectural visualizations, on the web, mobile, consoles and beyond. Unity Technologies is aggressively innovating to expand usability, power and platform reach along with its Asset Store digital content marketplace and Union game distribution service so that it can deliver on its vision of democratizing interactive 3D technology. Unity Technologies is headquartered in San Francisco and has development offices worldwide. For more information, visit: http://unity3d.com.
Facebook: http://www.facebook.com/unity3d
Twitter:
+1 (650) 814-4560

Chris Clarke

+44 7590 509278