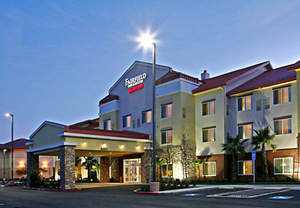 Discover one of the premier hotels near Yosemite National Park -- Fairfield Inn & Suites Turlock. The perfect place to mix business & pleasure, our Yosemite National Park hotel features spacious rooms, high-tech amenities & a 24-hour business center.
TURLOCK, CA--(Marketwire - Jul 13, 2011) - Parade your way down to the Stanislaus County Fair and enjoy the celebration of the 10 fun-filled days of great entertainment and wholesome family fun. Celebrating 100 years of fun and excitement the Stanislaus County Fair kicks off on Friday, July 15 and runs through Sunday, July 24 in the city of Turlock, California. This award-winning celebration will start and end with a bang and as always will have something for all to enjoy, young and old alike.
The 10-day run which started from a summer weekend in 1911 is an excellent source of fun, entertainment and education for everyone. The great fair is the largest event in Stanislaus County and those who want to enjoy the fun can do this by staying at a Yosemite National Park hotel. The entertainment and fun include carnival rides, fun children areas with lots of kids' games and activities, exhibition and plenty of food. A Centennial Hall will be included in the fair and will offer the chance for visitors of the fair to walk away with something unique. The excitement and fun will not end there as there is a variety of live musical entertainment and 10 nights of celebrity concerts on the Budweiser Variety Free Stage to enjoy. This includes performances from:
Clint Black on Friday, July 15
Boyz II Men on Saturday, July 16
America on Sunday, July 17
MercyMe on Monday, July 18
Clay Walker on Tuesday, July 19
Big Time Rush on Wednesday, July 20
Bob and Tom Comedy All Stars on Thursday, July 21
Joan Jett and the Blackhearts on Friday, July 22
Joe Nichols and Heidi Newfield on Saturday, July 23
La Original Banda El Limon de Salvador Lizarraga on Sunday, July 24
A preferred choice among the hotels near California State University, Stanislaus the Fairfield Inn and Suites Turlock is a great place to stay when visiting the Stanislaus County Fair. This wonderful hotel is located just 2 miles from the fairground and will offer guests convenient access to the fair. Featuring fine accommodations with spacious rooms that include crisp linens, premium mattresses and a beautiful design the stunning hotel offers superior value to all that want to enjoy the ten-day celebration.
For those traveling in groups or with kids, this Yosemite National Park hotel will be the ideal place to stay and is also a great option for extended stay in Turlock, CA. The hotel's guestrooms will meet the needs of all guests, and the comfy rooms will allow for a good night's rest. The stylish work area and high-speed Internet are perfect for guests who want to stay connected, work a little during the fair or business travelers on the go. After all the fun and excitement, the Fairfield Inn and Suites will put guests within walking distance of over 20 restaurants. The hotel's convenient location will also provide guests with easy access to San Joaquin Valley's largest open air shopping center, Monte Vista Crossings.
About the Fairfield Inn and Suites Turlock
Providing wonderful accommodations in Turlock, the Fairfield Inn and Suites Turlock is a great place to stay when looking a hotel near Yosemite National Park. The premier hotel caters to the needs and expectations of both business and leisure travelers and not only offers comfortable lodging to all but convenient access as well. This hotel will put guests near a wide array of activities, including golf, horseback riding and spas to enjoy. Business travelers who stay at this pristine hotel near CSU, Stanislaus will also have access to a well equipped on-site business center.
Contact Information:
Contact:
Mike Givens
301-547-4761