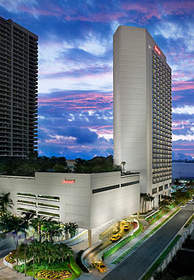 Discover one of the premier Miami hotels - Miami Marriott Biscayne Bay. Featuring waterfront accommodations and luxurious amenities in the heart of the Arts District, this downtown Miami hotel offers a breathtaking location on Bayshore Drive.
MIAMI, FL--(Marketwire - Jul 14, 2011) - Time is of the essence to take advantage of one of the most spectacular Miami vacation packages to be found this summer. Luxurious accommodations in the midst of Miami's popular Art Deco district await savvy travelers looking to enjoy a great vacation at low rates.
Travelers who plan now and book their travel accommodations at the luxurious Miami Marriott Biscayne Bay hotel will receive savings of up to 25 percent on stays through October 30, 2011, if reservations are made by July 22. With the "More Florida for 25 Percent Less" package, travelers can enjoy more of "Everything Miami" with their savings from one of the hottest hotel deals in Miami. A great opportunity for family fun or a weekend getaway, the savings can quickly be turned into more opportunities for fun in the Florida sun! From white sand beaches and shopping to championship golf courses and popular local attractions this package is a great way to create an exciting Florida escape. With rates starting as low as $99*, travelers who book early can turn savings into an adventure all the way into October. Conveniently located among hotels near Miami Seaquarium, the Miami Beach Golf Course near Biscayne Bay, the famous South Beach and the Miami Children's Museum, there are a wealth of activities to keep everyone in the family entertained.
Accommodations at the Miami Marriott Biscayne Bay hotel may be easily booked online by using promotional code F9L at http://www.marriott.com/hotels/travel/miabb-miami-marriott-biscayne-bay/ or by calling 1-800-834-7015.
This Miami Seaquarium hotel's opulent guest rooms and hotel suites offer views overlooking Biscayne Bay and Miami's downtown district and pamper guests with marble bathrooms, luxurious bedding ensembles featuring pillow top mattresses and fluffy pillows, flat screen TVs, high-tech plug-in capability and premium movie channels.
*Rates are per room per night and include promotional discount which applies to room rate only on reservations booked on or before 7/22/11 for stays through 10/30/11. Offer does not apply to groups of 10 or more rooms and may not be used with any other discount or promotion. Please visit hotel website for additional terms and conditions.
About the Miami Marriott Biscayne Bay Hotel
The Miami Marriott Biscayne Bay Hotel has recently completed a $31 million renovation and redesign to offer only the finest in Miami hotel accommodations. Prominently located near the popular Art Deco District and Bayside Marketplace, the hotel offers fabulous waterfront views, a relaxing outdoor Marina Terrace for watching the boats and a refreshing fifth floor outdoor pool and deck. Eco-friendly, this bayside Marriott is one of a select group of hotels to be granted Palm 1 Certification and welcomes guests with its warm and inviting new look.
Visit Marriott International, Inc. (NYSE: MAR) for company information.
Contact Information:
CONTACT:
Mike Givens
Marriott Hotels & Resorts
301-547-4761