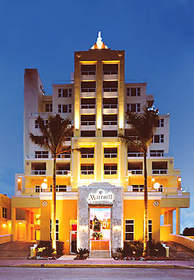 Discover a luxurious beachfront South Beach Miami hotel that's steeped in Art Deco style. With luxurious suites, a sumptuous bar and decadent dining, our South Beach hotel's amenities create an urban paradise in the heart of Miami, Florida.
MIAMI BEACH, FL--(Marketwire - Jul 14, 2011) - A limited time offer by one of the premier South Beach luxury hotels can add up to some major savings on a fun-filled Florida vacation for those who act quickly. Now through July 22, 2011 travelers who book their vacation stay at the remarkably splendid South Beach Marriott can save up to 25 percent on hotel rates for rooms stays through October 30, 2011.
Savvy travelers can fast-forward their vacation planning by booking hotel rooms now, and then turn those savings into more opportunities for fun in the sun. Miami's South Beach is an applauded choice for family adventures and relaxing getaways and with this South Beach hotel's limited time discount enjoy championship golf, world-class museums, sparkling beaches, exquisite shopping and the famous Art Deco District. With rates starting as low as $191*, travelers who book by July 22 can utilize the savings to add an extra round of golf, more water sport adventures, or exquisite fine dining and entertainment options to their vacation plans all the way into October.
Accommodations at the South Beach Marriott may be easily booked online by using promotional code F9L at http://www.marriott.com/hotels/travel/miamb-south-beach-marriott/ or by calling 1-800-834-7015.
Stylish among hotels on South Beach the Marriott provides guests with a contemporary retreat in the midst of the popular "So-Fi" district -- just steps from the beach, shopping, dining and nightlife. Guests will find this Lincoln Road hotel's accommodations to include lavish guest rooms and spacious hotel suites, all featuring upscale amenities such as high-speed Internet access and Wired for Business packages. Private balconies with city or ocean views are standard along with 300-thread-count sheets and 32-inch flat screen TVs.
*Rates are per room per night and include promotional discount which applies to room rate only on reservations booked on or before 7/22/11 for stays through 10/30/11. Offer does not apply to groups of 10 or more rooms and may not be used with any other discount or promotion. Please visit hotel website for additional terms and conditions.
About the South Beach Marriott
The South Beach Marriott is a stylish beachfront hotel conveniently located in the midst of one of Miami's most exciting districts. In addition to impressive beachfront access, the hotel offers a new infinity-edged pool and an expanded outdoor patio at the hotel's own Deco Blue Restaurant. Located near Miami International Airport, the South Beach Marriott also offers state-of-the-art event space, full service catering and professional event managers for exceptional business meetings and social events.
Visit Marriott International, Inc. (NYSE: MAR) for company information.
Contact Information:
CONTACT:
Mike Givens
Marriott Hotels & Resorts
301-547-4761